A man who helped to rescue some of the occupants of the fishing boat that capsized near Owia on Sunday night says the Coast Guard should clamp down on fishing boats carrying passengers without lifejackets on board.
A Coast Guard officer is said to be the owner of the 25-foot pirogue and was among the 18 passengers on board when it capsized around 8 p.m. as it was returning from a picnic in Water Hole, a recreational area on the northern tip of St. Vincent.
Dexter Irish, an Owia resident who was on board another boat that helped in the rescue, said the Coast Guard officer was found floating face down in the water and had to be resuscitated.
One man, Kenson Browne, 25, of Sandy Bay, is still missing at sea and presumed dead and the Coast Guard suspended the search for him on Tuesday.
Denicesa Browne, the missing man's sister, told iWitness News in Owia, on Tuesday, that the incident occurred on one of the fortnightly picnics that her brother attended with friends.
Separately in Owia, on Tuesday, Irish told iWitness News that the experience on Sunday was "terrible" and unexpected.
"Right now, what I have to say is that the Coast Guard has to get serious with these loads of people on boats and no life jackets. They've got to be serious about this," Irish said.
"Whether a little child, they must get some life jackets on board because you never know what would happen on the sea. That does not have a back door," he said, pointing at the sea.
"If you can't swim, you're dead and if there is no one there to help you, you are gone," he said.
"So right now, these Coast Guard people have to be serious; really serious. When I tell you serious, serious."
It was noted to Irish that the owner of the boat is said to be a Coast Guard officer.
"Yes. So, that is why I tell you, as an officer, he is supposed to know the rules because you work on the boat. You are supposed to know what is going on, as a big man," Irish said.
He said that the two boats — the one in which he was travelling and the one that capsized — had gone to the picnic area separately.
However, they decided to return together as the owners are friends.
Irish said the boat that capsized had too many people on board, most of them adults, and there was also music onboard.
"And we try to go and organise to get some people out of that boat to come to the other boat. But the music was there so they weren't studying us," Irish told iWitness News.
He said that he heard screaming suddenly. "When I look back now, the boat was underwater," Irish said, adding that he was able to save a woman and her daughter.
"There was real crying and bawling, screaming and all things," he said, adding that it was "really dark. Couldn't see. Just the noise you were hearing."
The boat capsized off Kramacou Bay, located in an uninhabited, unlit area between Owia and Fancy on St. Vincent rugged northeast coast, where the sea is especially rough.
Irish said he had to listen to the shouting and the noise to find out where the people were in the water.
"It was really, really terrible," Irish told iWitness News, adding that some of the people were hospitalised.
Irish, a diver, said he was not scared as he has experience rescuing people before and has even assisted in retrieving bodies from the sea.
But he said that the captain was not prepared.
"Now, you have 16 or 18 passengers on board, you are supposed to be prepared," Irish said, adding that the young children on the boat should have been wearing lifejackets.
He said that while some people said that they had gone to Baleine to picnic, they had actually gone to Water Hole, near Fanny.
"Other people talk all kinds of things. They don't know what happened. It's only who was there can tell you."
He said that when the boat capsized, the other one responded quickly.
"And they tell me to jump off because I am the only diver on that one."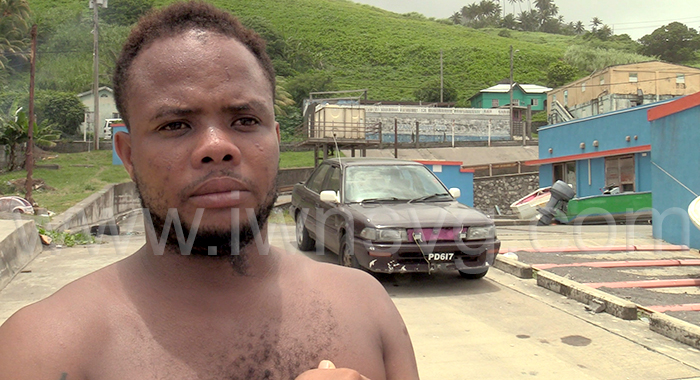 He said that his hand was injured as a result of his rescue effort.
"… right now, me hand mash up, swell; can't do nothing. I just have to take it easy."
He said the owner of the boat was met facedown in the water.
"He done gone already," Irish said, meaning that the owner was unconscious.
He said on Monday he went to dive in the area where the incident happened as part of the search for Browne.
"It was a funny, funny feeling," he said, adding that he saw bowls and spoons on the seabed.
Irish concluded that Browne died, a conclusion that the missing man's sister had already come to.
He said that if Browne was still alive, he would have made his way home by then, adding that if Browne's body is not recovered after three days, it would never be found.
Irish said he was involved in the rescue efforts at Rock Gutter in January 2015, when seven students died after a minivan careened down a steep section of road and plunged into the sea.
The bodies of two of the students were not recovered.
Irish told iWitness News that while only one person was missing after Sunday's mishap, "I still feel it because he is a man when I went to Sandy Bay, he used to shout me up.
"So, when they came yesterday and his parents came and they started to bawl, it just kind of broke me down. I feel it; really feel it. All now, it is as if I can't sleep because I feel it for the youth. I really feel it for the youth," Irish told iWitness News.
"People said he carried a girl to the boat and went back to help because he can swim. I don't know if it is when the boat struck the reef he got knocked out because there is a reef right there."
Irish said they had to perform CPR on one of the girls who they rescued.
He noted that the sea on that side of the island is usually rough but said the conditions on Sunday were what would be considered normal for the area.