Opposition spokesperson on national security, St. Clair Leacock has suggested that Commissioner of Police, Colin John is being pressured to stay in the job.
Last week, Searchlight newspaper, citing multiple unnamed sources, reported that John, 55, will demit office over the next few weeks, having given notice that he intends to retire early.
But on Tuesday, Gonsalves, who, as prime minister, determines who becomes commissioner of police, said he will not confirm or deny whether or not John has requested early retirement.
"But bear this in mind, if you ask for early retirement, any official, any public official, the Public Service Commission, and in this case, the Police Service Commission, would have to concur, would have to say yes. I am not aware of any such matter…" Gonsalves said.
But Leacock, speaking on the New Democratic Party's "New Times" on NICE Radio, on Wednesday, said the prime minister's comments were "not becoming".
"Let's Colin John be who he can be — wants to be. Let him self-actualise. He wants to retire, that's his business. He wants to resign, that is his business. He has a right to. He is a professional man," the Central Kingstown MP said.
"But don't intimidate him with this big stick over his head. Because all it is trying [to say] you better comply, you better fall in line or else I'll crush you. That's what it is saying. I'll crush you. Who you think you are?"
Leacock said that while the New Democratic Party (NDP), of which he is a vice-president, and others in this society may have their differences with John as commissioner of police, he is entitled to his own politics.
He said that one has to accept that at age 55, John has done well for himself, not just in the police service, noting that the police chief is also a lawyer and had been assistant director of public prosecution.
"That's a significant achievement. And those things in themselves and by themselves should allow him to command the respect of those he serves, including the prime minister. And he has a right to self-respect and to be respected."
Leacock said Searchlight is a credible newspaper and would be "extremely careful" in publishing a report that the police chief is proceeding on early retirement.
However, on Tuesday, the newspaper merely reported on Gonsalves' comments and did not stand by its story that the police chief had, in fact, sought early retirement.
"If they are in error, and I'm sure … they will come back and apologize. But if they are then Vincentians have a right to respond," Leacock said.
"We are in St. Vincent and the Grenadines at this time at the lowest state of confidence in the service provided by law-and-order forces," he said, adding that it was not that there had not been much success over the years.
"But people are concerned as to their public safety," the Central Kingstown MP said, adding that there is "a lull, there's an uncanny peace and quiet.
"Whether is the calm before the storm, we do not know. Whether there will be another eruption, we do not know. But at the very least, as a minister of national security, our people should be assured and insured at all time that their safety is your number one concern," Leacock said.
"If by your actions, your pronouncements, Mr. Prime Minister, you're making statements that destabilises the institution called the Royal St. Vincent and the Grenadines Police Force, that makes the high command … don't know whether they're going or whether they're coming, who is in charge and who is at large, whether by your statement you have senior officers of the force jockeying for position — because that's what happens because there isn't a meritocracy among police officers as should be — then you're doing the nation a disservice, the force and the nation.
"But to be more pointed, you, by saying you don't know, you're unaware, you can't conform, you can't deny, what you think it is? This is a private kitchen? Your home circle? What are you saying? And it is said in such a way that all senior public servants now know that after you have spoken, or as you say, when you talk, no damn dog bark."
Leacock said that someone reminded the public that morning that Gonsalves had said that members of his Unity Labour Party are dead politically if they leave the party.
"That's a statement that they've made. Because there's consequences. So, he must be mindful that if he is contemplating leaving the police force, he cannot find another job situation in St. Vincent and the Grenadines which would need your blessings."
Leacock said that with John's qualification and experience "he has to be well placed … to be qualified to take up appointments and make a decent living as he chooses.
"I'm not here defending Colin John. But I'm speaking objectively on what is the status. But if you are at disagreement with him, everybody knows he has to 'come back to Papa'.
"And you are doing something that is not only to Colin John. But you're doing something that is inimical to the interest of St. Vincent and the Grenadines; intimidating all senior public servants. Unless they are in step with your cadence … that they are dead in the water."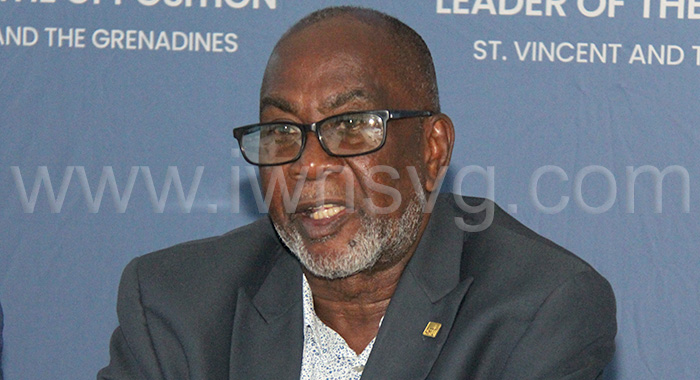 'a state of disorder, instability or uncertainty'
Leacock said that whether Gonsalves "intentionally or unintentionally understood it to be the case", he has compromised the state of national security in the country.
"… because those criminal elements can pounce and recognise that there is a state of disorder, instability or uncertainty as to the chain of command. And that there are disagreements of a fundamental nature between the minister of national security and our top cop and would give their own interpretation to that."
He said that as shadow minister of national security, he was not speculating or ventilating on what is or is not happening.
"I have my own sense of what is the confusion? In fact, it is more than a sense; it is more than a sense. Because we know what is happening. We know who's calling the shots. We know where the disagreements are."
Leacock said there has never been a time in the country when so many Vincentian men and women are leaving the country in an effort to escape being killed.
"I'm saying emphatically the state of people escaping, trying to escape and seeking assistance to get out of the St. Vincent and away from the gunman has never been as high as it is now. And I say on evidence that that is the case. Because so many people are intimidated and scared to wits that they're next."
He said that some people "literally speaking" are "being left to dead" because the witness protection programme is not working.
"We're not providing that umbrella of insurance to people who have witnessed crimes to provide evidence."
Leacock said this is why there is a significant mismatch between the high number of homicides and the number of arrests.
"… prosecution is a fraction of the homicide rate… So, you may have 40 in a year and if it gets six arrests, you get plenty. And if it gets three reach the courts, you get plenty. And invariably it might be two who might be sentenced, because of all kinds of contamination with the evidence, and the this wouldn't do and that couldn't do and this couldn't come forward and that.
"I mean, what here is? … Help me. Is this a real place? Clearly it is not. And that is something the New Democratic Party under Dr. Friday, will put right," Leacock said.
Senior public servant not allowed to make decision
He said public servants, including the high command of the police force, must have "the freedom and the respect and the latitude and the professionalism to deliver the highest level of law-and-order services to the people of St. Vincent and the Grenadines and to protect them from harm and danger…
"The more senior you are in St. Vincent and the Grenadines, the higher office that people occupy in the public service, is the more difficult for them to make professional decisions.
"We are not where we were yesterday when our permanent secretaries ran the things, where you can hear from a permanent secretary what is the state of affairs in a particular ministry in the government of St. Vincent and the Grenadines and can believe in the truthfulness, the veracity, the accuracy, the intelligence of what has been delivered. That doesn't happen anymore.
"All statements are political statements, hither, thither and yon, whether it's in passing on the Wednesday morning, or Sunday morning, or in some casual thing. We got to do better than that. We have to do better than that," Leacock said.
He said the nation's senior public servants are becoming isomorphic.
"All it means is everybody's getting to resemble the other and all trying to conduct themselves, behave themselves to anticipate what the boss would want. It's a slave mentality. It's like a house slave. They are afraid to make professional decisions.
"They are afraid to be at variance and that is the destructive culture that has been left behind as a part of this ULP legacy. One man, one encyclopaedia. And this has left us or is leaving us in a very, very dark place."