Leader of the Opposition Godwin Friday says that the new commissioner of police must work to rebuild public confidence in the Royal St. Vincent and the Grenadines Police Force.
After weeks of speculation, Prime Minister Ralph Gonsalves confirmed on Thursday that Commissioner of Police, Colin John has applied for and obtained early retirement.
And while there were reports that last Friday was the commissioner's last day on the day, iWitness News was reliably informed that he was in uniform on Monday.
Gonsalves, who is Minister of National Security, has not said when the police chief's retirement would take place, but said that a new commissioner would be in place by the end of this month.
Friday, speaking on his weekly appearance on his party's radio programme, New Times, on NICE Radio, on Monday, noted that in July his party had reiterated its call for John to demit office.
The New Democratic Party (NDP), which Friday heads, speaking in the aftermath of the July 19 murder of five males in Kingstown, had said that John had lost the confidence of the people and should be replaced as police chief.
"Well, the government didn't move to do it but he himself, he felt that he would have had enough and so he has [retired]," Friday said.
The opposition leader said that John's departure from the constabulary has not reduced the challenge that the nation faces in dealing with serious crime, including homicides, burglaries, praedial larceny, domestic violence, and sexual violence, especially against young girls.
"And it is a serious escalating problem in our country and so a signal has to be sent with the appointment," Friday said, adding that he would have thought that the public would know by now who the new commissioner of police would be.
"… because we can't waste time in this day and age when you have very low public confidence, if confidence is the right word," the opposition leader said.
"Public attitude towards the police and crime fighting in this country is at a low and we have to have a new commissioner sending a signal that there is a serious attempt to reverse the slide that has taken place in public confidence in the police."
He said the top cop post requires somebody "whose focus will be on crime-fighting, whose focus will be on community policing, getting the police involved with the citizens, who would instil within the rank and file of the police service the motto of serving and protecting the public as being their purpose of being".
Friday said this will go a long way to instil in the public confidence that things may turn around.
"Of course, the bigger signal would be to have not just the commissioner go but also the minister of national security, who happens to be the prime minister, to be replaced as well so that we can turn a new leaf and have people who are tasked specifically with dealing with the rising crime and deteriorating public confidence in the police service. That is what I believe is needed."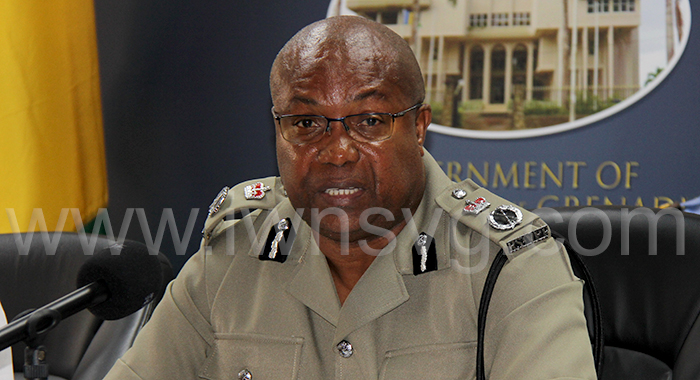 He noted that there has been no communication from the government regarding the appointment of a new commissioner of police, besides saying that one would be in place later this month.
"Who is that person going to be? What are the criteria going to be applied in selecting such a person?" Friday said.
He said that one of the things needed to rebuild confidence in the police force is increased crime-solving.
"That is something that would help to inspire confidence but it also requires communication," Friday said.
Open communication needed
He said he hopes that the new commissioner of police is someone who opens communication between the constabulary and the public.
"Bring the public on board. We are not saying that you reveal all of the ins and outs of investigations. Of course, that is something that they would have to have a judgement on. But you see it all over the world where you have high profile criminal offences where the police will keep the public abreast," the opposition leader said.
"That essential act of communication has to come from the very head, from the commissioner, … from somebody who is charged with the responsibility of serving and protecting the public."
Friday said that only someone with the requisite skills should be promoted to police chief.
"It can't just be that you're promoting somebody because this is somebody that you personally — whoever is doing the appointment — feel that you can rely on but doesn't necessarily have the skills that the country needs.
"The country has to be put above any kind of partisanship regarding any particular appointment to this very, very important office of commissioner of police and then to allow the commissioner and the police service to do their job and to do so effectively using the training and resources at their disposal as effectively as possible and to do so in a way that helps to rebuild public confidence in the police service," the opposition leader said.
"These are things I believe are riding on this appointment that is to come and I have my doubts and reservations but I am always willing to be convinced otherwise or to see that I can be surprised in a pleasant way by such things as how this government functions when it comes to senior appointments."
He said positions in the police force tend to be "based on favouritism and having people from a certain constituency.
"That's a serious complaint in the police service. I am not making this up or trying to cast the government in any particular negative way. This is a part of the complaint in the police service that affects morale that a lot of people are overlooked," Friday said.
He said that there were complaints after the recent promotion announcements that a lot of persons who were expecting to be promoted were not and others who may have been promoted "seem to have been given an easier ride; a more favourable treatment.
"That affects the morale of the service. That makes people who feel that they are competent and they have done their work and so forth not being rewarded by appointments, it makes them feel that they are not being appreciated," Friday said, adding that nobody likes to feel that way.
"Of course, they still have a duty to perform their jobs and I urge them to do so. But there is a lot, as I said, riding on this appointment of the commissioner of police and let's hope that they get it right and urgently," the opposition leader said.