By Observer
"… and if you catch them broken, you can get it all for nothing…" — Mighty Sparrow
The matter surrounding Sandals Resort has been making the rounds and may prove to be slightly more controversial in the long run, than we anticipate. It is compounded by what we see happening in Canouan.
Luke Boyea is right when he asked, more than once, on Hot97's morning "chop up", why haven't the government confronted this issue up front and head on "like a man" and take the people intoi its confidence? Why was that not done? What local or foreign investor would invest in any project, only for it to attract the wrong attention, or be at the centre of controversy? No investor anywhere wants that; not when it could affect investment returns and damage an international brand like Sandals.
It is also potentially bad business for the country and the government. It certainly won't be a welcoming sign for any potential investor looking on. What then could be the reason why the government has not met with the people for an understanding? The issue of beach access in front of the resort should have been addressed by the government with the people of the surrounding community, and the country by and large.
Now, one may argue that there is nothing to discuss since all beaches are public; but it is clear from the images we've seen of the resort that it would be a challenge for locals to enter that portion of the beach though legally, they can. The fact that they can do so legally, is reason enough why it should have been addressed by the government one way or the other.
Canouan is enough of an example. Are we waiting for such an issue to flare up on Sandals' white sands, only to have police drag relentless protesters off to jail in front of guests who would have paid thousands for an exclusive and tranquil experience? Maybe then SVG would get the attention that it's seemingly craving. One witnessing guest might just be an international journalist, pissed off at the disturbance and disruption of an expensive getaway. Perhaps this is the international acclaim that SVG is looking for.
Other thoughts:
For those guests who might be racially conscious and attentive; it might be interesting to see how they react to the fact that a native black sand beach was covered with white sand to present a more appealing product to visitors. That will be interesting when and if that revelation gets recorded. Those reviews should make for interesting read should word get out.
Anyone else noticing the depiction of the resort by the images presented and marketed to visitors? If you are not familiar with the South Leeward valley of Buccament, the impression you may gather from those images might be one of an exclusive and somewhat remote location. You might not gather that the resort compound borders the nearby village, which the images do not quite portray. If you look to the left of the river on these images, you might not gather that there is a village there. In case you have not checked, a seven-night stay in the opening month of the resort runs from about US$7,500 to over US$22,500 depending on the class of accommodation, and this is after discounts, which are more than half off. This also does not include airfare.
No one pays this amount of money for what is supposed to be an exclusive and tranquil stay, to possibly listen to screaming kids at a nearby school, or to be awakened and entertained by good old early morning Vincy cuss out between neighbours; not to mention a good puff of smoke from a nearby coal pit. Who pays these kinds of prices to experience these things? Perhaps this is all part of the marketing strategy to depict the facility in such a way, but it would be very interesting to read the web reviews from persons who would be greeted by a surrounding that might be different from what is portrayed in a marketed sway.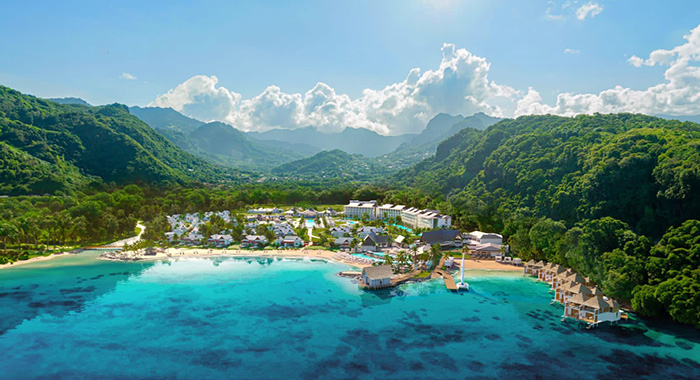 Economic gain:
Some questions are also being asked about the economic gain and the spill offs in the wider community; and those are fair questions. For those who may not know, the fees that we listed above include almost everything a guest would need, without having to leave the resort: "Unlimited fine dining at 12 restaurants"; "Breakfast, lunch, dinner and anytime snacks"; Unlimited wines and liquors; "5 bars, including swim-up bar"; "Stocked bars in every room"; fees include "all tips, taxes and gratuities"; "Non-Stop roundtrip airport transfers"; "Fitness center with state-of-the-art equipment"; "Day and night entertainment including live shows"; "Free WiFi (in room and all common areas)"; and more in-room inclusive offers.  
Clearly there is no need for any of the guests to leave the facility. They don't even need a taxi from the airport. Resort workers may not even receive the level of tips that workers at other hotels receive. With 12 restaurants, and food already paid for, would there be appetite for local food outside of the resort? Let's hope the bars would at least serve local drinks.
It is now left for the government and its tourism arm to be creative in the enticement of guests to engage in the local organic experience, but that is left to be seen.
Let's hope Sparrow's lyrics are not proving true for SVG. I would hate to think that an investor is having his/her way with SVG, having caught it broken. The questions Luke Boyea have been asking should be answered. Why haven't the government met with the people? What exactly is the agreement between the government and the resort owners? Is Canouan not a convincing learning experience, or is it that there is nothing there to see?