Wednesday was not a good day for the defending ECCB International Netball Series champions, with a loss to Grenada in the 6:15 a.m. game and a victory against Dominica in the evening.
St. Vincent and the Grenadines' Vincy Jewels lost their morning game in a nail-biter 33–34, reducing their chances of retaining the title won in Dominica in 2022.
The team were forced to play two games on Wednesday due to a rescheduling of matches in the 2023 ECCB International Netball Series, in Antigua and Barbuda because of the passage of Tropical Storm Phillippe, which dumped several inches of rain on the twin-island state, which along with high winds, caused much damage.
Vincy Jewels led the first two quarters 09–07, 18–17, but forfeited that lead to the Grenadians in the third and fourth quarters respectively, 24–26, and 33–34.
For the Vincy Jewels, goal-shoot Joseann Antoine scored 21 from 28 attempts, and goal-attack Shellisa Davis netted 12 from 18 attempts.
For the Grenadians, goal-shoot Carlene Alexander scored 25 from 29 attempts, and goal-attack Celina Brown 9 from 17 attempts.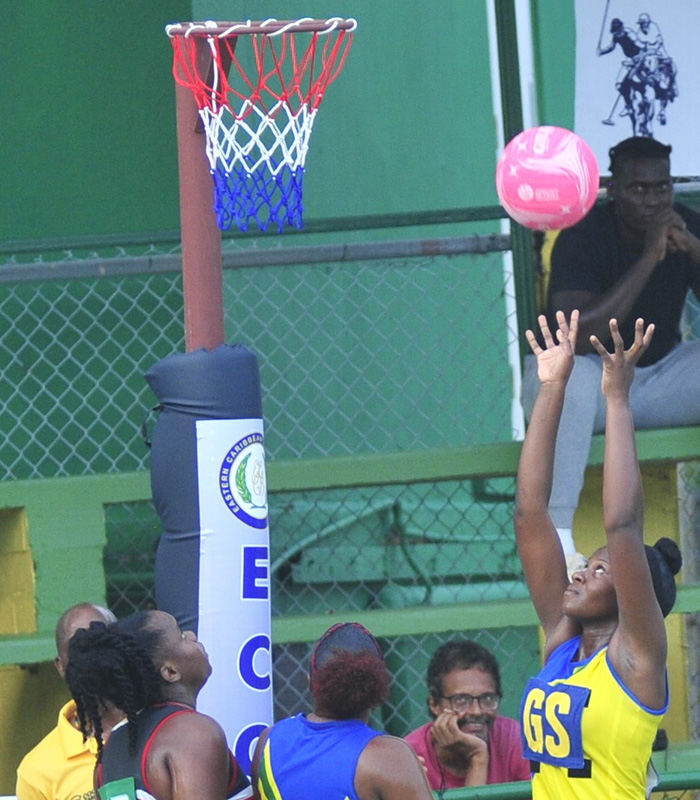 In the evening game, the Vincy Jewels ran away 53–43 winners and secured second spot on the standings 16 points, four behind the first placed Grenada — on 20 points – with two games to go.
Vincy Jewels' remaining games are against Montserrat and St. Lucia in the ECCB International Netball Series Open division and against Barbados in the Invitational division.
The Dominicans took the first quarter 13–10, but Vincy Jewels came back to take the second quarter 26–24, with the ding-dong battle resulting in a 36–36 third quarter.
However, Vincy Jewels pulled away in the fourth quarter to out-score their opponents 17 goals to 7, and register a comfortable 53–43 victory in the end.
Goal-shoot Joseann Antoine scored 25 from the 32 attempts taken, goal-attack Shellisa Davis 27 from 42 attempts, and Kimesha Antoine netted 1 from 3 attempts, scoring for the Vincy Jewels.
For the Dominicans, goal-shoot Anna Mar Panthier scored 12 from 19 attempts, and goal-attack Gailene Gordon-Seraphin netted 31 from 36 attempts.
Today (Thursday), at 6:30 a.m., Vincy Jewels take on Montserrat, followed by St. Lucia on Friday at 7:30 p.m.
In a repeat of the bronze medal game at the 2023 CAC Games, it will be the Vincy Jewels taking on Barbados on Saturday at 6:15 p.m.