Prime Minister Ralph Gonsalves says Africa and the Caribbean must join efforts in addressing "technological emancipation" as well as reparation for native genocide and slavery during colonisation.
He told Bells University of Technology of Nigeria's 15th Convocation ceremony, on Friday, that despite strong growth globally in cross-cutting technologies, artificial intelligence, robotics, energy, biotechnology, nanoscience and nanotechnology and more widespread shift in the publishing manscape on science and technology, Africa and the Caribbean lag significantly behind.
"So, all of these challenges have to be addressed, but they cannot be addressed by countries themselves individually, they have to be addressed by African countries together with the Caribbean, Latin America, Asia. This is the only way we are going to be able to do it," Gonsalves said.
"If you have any thought that you're going to do it by yourself, it's not going to happen. So that's an important lesson," he said as he spoke on the topic, "Technological Emancipation of Africa and the Caribbean in Digital Space and Global Drive for Reparation"
"Now, the same thing happens in respect of the struggle for reparations," he said as he urged the students to join the struggle for reparations.
"I know some of you may be saying, 'Do you seriously expect, Ralph, for European countries to pay us reparations?'
"Well, you know, in the 20th century, and immediately after the war, when there was an independence movement in Africa and the Caribbean, it was being said, 'Do you seriously think that these European countries will give you us independence?'"
Gonsalves noted that by 1957, Ghana became independent, adding, "… and what was a trickle became a flood all over Africa and the Caribbean".
The Vincentian leader noted that in 2013, he took to heads of government of CARICOM a proposal for reparations as a permanent item on the agenda of the 15-member block.
This led to the establishment of the Prime Ministerial Subcommittee on Reparations, the CARICOM Reparations Commission, and national commissions in each CARICOM nation, Gonsalves pointed out.
He noted that Vice Chancellor of the University of the West Indies, Sir Hillary Beckles is chair of the CARICOM Reparations Commission.
"So, we take this very seriously," he said, noting that the commission is pushing for reparations for native genocide and the enslavement of African bodies.
"The wealth in Europe was built substantially on slave labour and the lands which were stolen from the indigenous peoples, and they were largely exterminated," he said, adding that this was the case in St. Vincent and the Grenadines.
"And today, we see the under developmental legacies of native genocide and the enslavement of African bodies in our countries. Indeed, you see it in West Africa…
"You can't take 20 million strong men and women, productive men and women out of a population and don't affect the production processes in West Africa. And then, of course, you take them to the Caribbean, forcibly, and that you have received centuries of free labour and build your wealth. Now, these are crimes against humanity.
"There has to be a process of accounting."
He said that when CARICOM started its reparations efforts in 2013, people said that he was "mad".
"Well, a lot of people who have achieved a lot of things, innovative things, people say that they're mad. You know, when you don't have the vision that somebody else has, the first thing you say, 'No, that's craziness. Pause, Stop. Think about it. And bit by bit, or as the evangelicals say, day by day, sweet Jesus, you see it happening."
He said CARICOM has made progress on reparations over the last 10 years.
"And we are doing a lot of diplomatic work, a lot of political work and we are giving consideration now to go to the International Court of Justice for an advisory opinion on this matter.
"We have economists and other social scientists working on the quantification," Gonsalves said, and told the students that at the time of Emancipation, the planters in the Caribbean were compensated 20 million pounds.
"Multiply that 20 million pounds by 140 and you will get what is the value today. Now, if you also factor in the very human cost itself at the hands of the slave owners, you will see the kind of quantum you're talking about."
He said that CARICOM has drawn up a 10-point plan on reparations that it wants to be lodged within the framework of the Sustainable Development Goals.
"We have reached the stage now where even the British Royal Family in King Charles, when he was Prince Charles, at the Commonwealth Heads of Government Meeting in Rwanda, where he said that reparations is a matter, a subject, an idea whose time has come for a mature consideration.
"And I want to invite the young people to begin to study this question. Go on the website for the CARICOM reparations commission. And you'll see what we are about," Gonsalves said.
He said that at first blush, the subject of Africa's technological emancipation in the digital age, and the drive globally for reparations for native genocide and slavery may appear unrelated.
"Indeed, they are very much interconnected in our integrated quest for sustainable development, for transformation, for the better optimally for our lives, our livelihoods and production," Gonsalves said.
"They telescope our lived experiences of the past and present and our envisaged future, which of all time is the only time that we have to disagree and our shared experiences, we must have them translated into shared expressions institutionally…
"But the fact of the matter is this: you're not going to emancipate the technology unless you have a wider quote-unquote emancipation of the political economy. And if you look, you will find that the unvarnished truth is that among other things, colonialism, neo-colonialism and imperialism encumbered development in Africa, the Caribbean, Latin America, in Asia and in very special ways…"
PM awarded honorary degree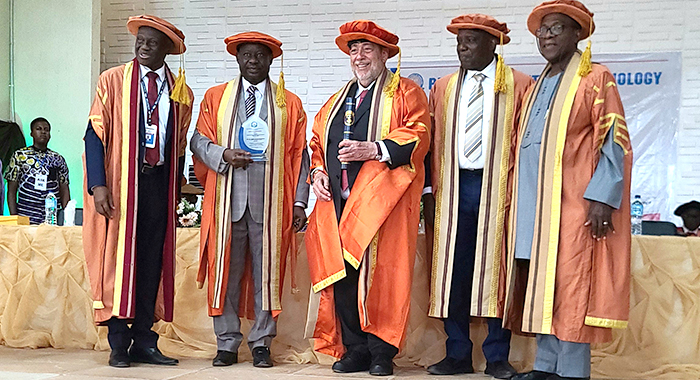 Meanwhile, the university conferred Gonsalves with an honorary degree, doctor of sciences.
On receiving the honorary degree, Gonsalves, who holds a doctorate in government from University of Manchester (England), thanked the university for bestowing the award on the people of St. Vincent and the Grenadines the award through him.
He also announced that the All-Saints Medical School in SVG is offering additional tuition scholarships to Nigerian students, valued at US$10,000 each.
Gonsalves is expected to visit Ghana before returning to SVG on Wednesday.