Kingstown Magistrate John Ballah has urged the father of a teenaged youth nabbed driving a rented vehicle while barred from holding a driver's licence to "take better care and better guard" of his son.
During the sentencing hearing at Kingstown Magistrate's Court on Wednesday, the magistrate asked the defendant, Jaylon Butler, 17, of Pembroke, where his parents were.
Butter said he was not sure.
"You ain't sure? Who you live with?" Ballah asked the defendant, who said with his "granny".
Butler further told the court that he quit JP Eustace Memorial Secondary School in Form 4 for no reason.
Later on, one of the prosecutors told the magistrate that Butler's father was in court.
The magistrate invited the father to take the stand and he gave his name as Ken-I Young.
The magistrate asked Young how it was that his son had said he did not know where his parents were.
"Sometime, I don't know — sometimes he like … he does chip off sometimes," Young told the court.
The magistrate told Young that he was going to charge Butler a fine and it was Young's responsibility to pay it.
He further said that he would hand down a suspended sentence on Butler for the charge of driving an uninsured vehicle.
"He is still a minor. Take better care and better guard of your son," Ballah told Young.
"We have too many young people killing one another and dying in SVG over feeling disrespected, feeling slighted and up and down taking people's vehicle and all kind of nonsense. Take guard of your son."
Butler was nabbed in Lowmans Hill the previous day driving a rented car while barred from holding or obtaining a driver's licence.
He pleaded guilty on Tuesday before Chief Magistrate Rechanne Browne to a charge that on Nov. 7, at Lowmans Hill Public Road he drove R9597 whilst being disqualified from holding or obtaining a permit for six months at the Serious Offences Court by Magistrate Browne on Oct. 18, 2023.
He pleaded similarly to a charge that he drove the vehicle without there being in force a policy of insurance.
Butler had initially pleaded not guilty, saying he was not the one who had rented the vehicle.
However, the chief magistrate entered a guilty plea after the teen admitted that he was driving the vehicle when police stopped him.
The chief magistrate had raised concern about a possible link between the vehicle and criminal activity on the Leeward side of St. VIncent, where a man was shot and killed in Layou the night before Butler was banned from driving the vehicle.
Browne had asked whether there had been any shooting in St. Vincent the day before Butler was nabbed driving the vehicle.
"Because these are things we have to consider," she said at the Serious Offences Court.
She then transferred the matter to the Kingstown Magistrate's Court for the hearing of the facts and sentencing the following day.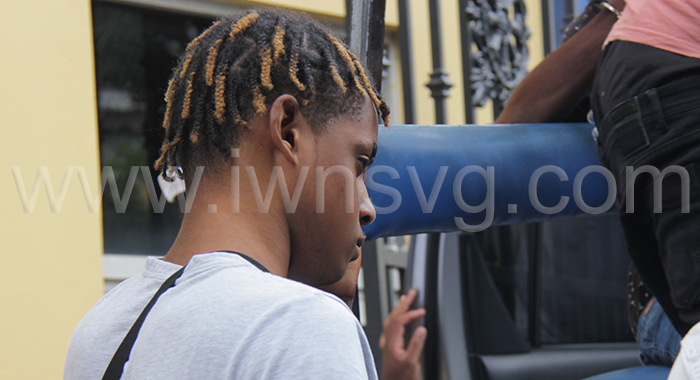 In presenting the facts, acting Sergeant of Police 189 Caesar told the court that on Nov. 7, about 6:45 a.m., officers from the Special Service Unit were conducting a stop-and-search operation along the Nelson Mandela Highway.
While near the hard court in Lowmans Hill, the officers stopped motor vehicle R9597, a silver rental car, which had approached from the direction of Campden Park.
Butler, the driver and only occupant of the vehicle, was questioned about his driver's licence and he informed the police that he did not have his licence on him.
He further told the officer he was taking the vehicle back to a friend in Frenches.
The officer took Butler to the Central Police Station and on arrival at the Traffic Branch, Sergeant Wendell Corridon recognised him as a person who the Serious Offences Court had barred on Oct. 18 from holding or obtaining a driver's licence for six months.
Butler was arrested and charged.
Caesar noted to the court that the motor vehicle regulations state that no person should not drive a vehicle unless he is the holder of a permit.
He further pointed out that a person who does not have a permit should not be employed to drive a motor vehicle. The officer told the court that anyone contributing to an unlicensed person driving a vehicle is subject to a fine of EC$2,500.
Caesar further noted that the law says that a person who drives while prohibited from doing do can be arrested without a warrant and is liable to six months in prison and a fine of EC$5,000.
The officer noted that the chief magistrate had barred Butler from driving less than a month earlier.
"He showed no regard for the traffic regulation," Caesar said.
He noted that while Butler is just 17, the law says that someone can obtain a driver's licence once they attain that age.
"And having been suspended by the chief magistrate, he shows no regard and to wait until the suspension is up. In less than a month he is before the court on the same charge."
Caesar asked the court to consider this and jail Butler for six months.
In handing down his sentence, the magistrate said there are no sentencing guidelines for traffic offences, but there are guidelines for sentencing people under the age of 18.
He said that despite the legislation saying that the persons should be sentenced to six months for Butler's offence, the principles of sentencing suggest that the court must cut by more than half the sentence handed down on someone of Butler's age.
Ballah said that in light of this, the court would move away from a custodial sentence.
The magistrate asked Butler if he realised how serious the charge was.
"Yeah," Butler responded.
"'Yeah' who?" the magistrate said and Butler responded, "Yes, sir." The standard response is, "Yes, your honour."
"Mr. Butler, the only thing that saves you right now — and I am doubtful that it will save you again — is your age," Ballah told Butler.
"Mr. Butler, jail is not a nice place to be and as a young person you might feel, 'I just drive a car, this is nothing serious; nobody dead.'
"But the law feels that at this point, even though you are at the age where you can get a licence, you have not behaved mature even to drive a vehicle. Driving a vehicle is a serious thing. You put a vehicle in somebody's hand, you put a very dangerous instrument and machine in their hand. You can do a lot, a lot of damage. You can cause injury and death to others and injury and death to yourself."
For the insurance offence, Butler was fined EC$500 to be paid in two day or one week in prison
For driving while disqualified, he was sentenced to three months in prison, suspended for six months.