By Kenton X. Chance
The world governing body for football today (Thursday) confirmed that Venold Coombs, former president of the St. Vincent and the Grenadines Football Federation (SVGFF) is no longer under a ban from footballing activities.
The confirmation came from Carlos Schneider, director of the FIFA Judicial Bodies, in a letter to Devron Poyer, general-secretary of SVGFF.
Schneider's confirmation came three days after Coombs, speaking at a press conference in Kingstown, accused the SVGFF of suppressing information from FIFA that he was no longer under a ban and could return to all football-related activities.
However, he refused to say whether he was interested in vying to be president of the SVGFF even though he told The News newspaper in September that he would make a bid to unseat Carl Dickson.
In the letter from FIFA, which Poyer disseminated to SVGFF affiliates and was obtained by iWitness News, Schneider said that FIFA has been following closely "the recent developments in St. Vincent and the Grenadines concerning the eligibility status [Venold Coombs] to participate in footballing activities".
FIFA said that its communication of Sept. 18 might have contributed "to create a degree of ambiguity in interpretation.
"In addition, your office was not provided with some details that could have assisted you to have a more adequate understanding of this matter," the FIFA executive wrote.
"In particular, the FIFA Disciplinary Committee accepted a payment plan which
resulted in the lifting of the ban imposed against Mr Coombs. In consideration of the above circumstances, we can confirm that Mr Coombs is no longer suspended from any football activities," Schneider said.
"This, without prejudice to the potential eligibility requirements of your association.
We hope this serves to clarify this situation," the letter stated.
In 2018, FIFA banned Coombs from all football-related activities — administrative, sports or otherwise — globally for two years.
He was further fined US$40,000 for selling 2014 World Cup tickets at a "profiteering mark-up".
FIFA imposed an additional six-months ban in August 2022, which elapsed in March 2023, for Coombs' failure to pay the fine.
At the press conference in Kingstown on Monday, Otashie Spring, president of SV United and first vice-president of SVGFF, told the media that Coombs had agreed to pay FIFA US$1,200 a month to satisfy the US$40,000 and FIFA had lifted the ban.
The SVGFF had not permitted Coombs to represent Spring's club at an affiliates' meeting and Spring said the local football governing body had done so despite having information that the ban was no longer in effect.
'Why you use ban?'
Meanwhile, at the press briefing, Spring attempted to walk a tightrope between his roles, saying the was speaking at the press conference solely as president of SV United.
Spring and Coombs, were equally evasive about whether they would seek election to the SVGFF, as the current term ends this month.
A journalist told Coombs that he was being very evasive on the question of his intention to vie for presidency of the SVGFF.
"Did you at any time between that time that you were banned and up to this day indicate an intention to vie for the presidency?" the journalist asked Coombs.
"Why you use ban?" Coombs responded. No, no, no, no, no. You have to take back the part with 'ban'."
The journalist asked Coombs the question again, and Coombs responded:
"Well, I will not answer you when you use the world 'ban'."
"Were you banned?" the journalist asked.
"I said I will not answer you with the conclusion of the word 'ban'. You have to say 'after the ban is completed'. I will not answer you with the inclusion of the word 'ban'. I'm not going to answer you."
The journalist asked Coombs if it was not a fact that he had been banned from football.
Coombs said:
"Because I understand and respect authorities and I respect decisions, the decision to ban me was well followed and respected. I will not answer you with the inclusion of the word ban. You're asking me a question inclusive of ban. I'm not going to answer you. Because I respected the ban. I followed the ban. I never violated the ban."
Earlier in the press conference, Coombs was asked whether he would run for office on the SVGFF executive once he has paid the fine FIFA imposed.
"My running to office which you know… I talk to certain persons. Once they say run, I running," Coombs said.
He was asked whether there was anything he would consider outside of his consultation with this people.
"As I said, I am guided by certain persons. And if they come to me, and they say run, right. I run. And that is me all the time," Coombs said.
Spring said it appeared that the media was somehow "under the impression that the ban is linked with the fine.
"From the correspondences that I … saw, I'm not of that opinion, and I think the correspondence that was sent to the football federation …, if I'm comprehending properly, which I think that I am, does not speak to that. The fine is a matter by itself; totally different."
Spring had noted that the ban had prohibited Coombs from football-related activity.
"If you want to say, which I think, from, again, a lay man's position that our football election is a football-related activity, you're expired from that. I mean, again, simply understanding, it is a part of it. It means that if you would have been previously banned and is no longer there, then you're not prohibited any farther. It's just simple, straight."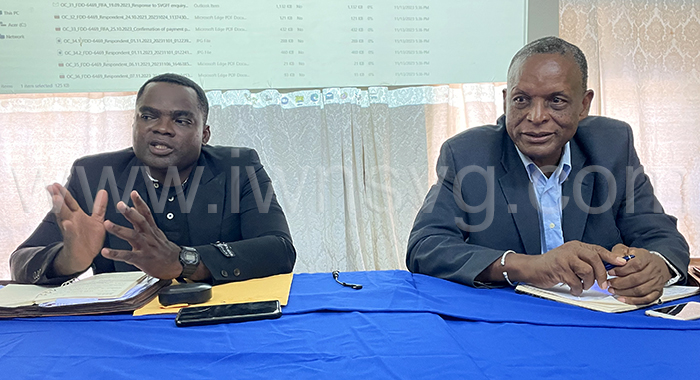 'they distort information'
Coombs, noting that he is the subject of the issue, said:
"I was banned — and in some terminologies, CONCACAF, or what, suspended — for two years from all football-related activities. That concluded in 2020. That's one part. The ban, the fine, they are two different exercises; they're two different things."
He said that between 2020 and 2022 he "had all right to take part in any football activities.
"But the fine was something that was there and I decided to address it," Combs further stated, adding that FIFA asked for a payment plan.
"Certain thing at the time was not necessary to engage with a payment plan. And okay, you can't be back and forth with a highly professional and big body like FIFA so come with a deadline. And that deadline last year was [pay the fine in full in] one or a six months [ban]."
Coombs noted that the six months ban expired in March.
"But they still were looking for a payment plan, you know, and it was necessary to come up with that. When that six months finished, they agreed with the payment plan. They stated quite clearly that definitely, yes, it has expired, the ban expired, but that ban relates to the fine, the six months related to the fine.
"And the six months expired well over six months ago, and they're satisfied now that we have agreed and engaged with them with a plan. And certain intervening things came in to the mix where the body here wrote to them, you know, asking certain things and referring to certain things," Coombs said.
He said that as a result of the interaction between the SVGFF and FIFA, it was made clear that he could return to football activities, but the SVGFF suppressed this information.
"And again, they distort information, stating that I will not be allowed because the full fine supposed to be paid. The only time that mention was made about the full fine was last year. That's the only time. They did not even put a date. they just make a reference to the number. So clearly, that is cruel suppression from whoever involved," he said.
Meanwhile, Spring said that whether he seeks re-election to the executive of the SVGFF would be determined by the affiliates.
"If they, basically, want me to serve, I mean, I'm here to do the public service. But it would be at their request," he said.
He said that no such discussion had taken place at his club.
"We have not had that discussion as yet. I think currently, well, again, I don't want to speak to Football Federation matters. But again, from an affiliate standpoint, I think there are some issues where the federation is currently dealing as it concerns having some stuff out of the way before you really get to nomination," Spring said.
"So, I guess when we get to that point, and you asked me that question, I'd be in a better position to answer."
Spring was asked whether he was concerned that he would be accused of leaking information to Coombs.
"Nothing brought out," Coombs responded.
"No. No. Hold on," Spring told Coombs.
He said that the information that was revealed at the press conference was "what was shared with me. I am not the source of the information".
Spring said that the information was in a portal.