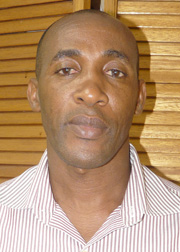 KINGSTOWN, St. Vincent, April 4 — Superintendent of Police (SOP) Christopher Benjamin has been equipped with advanced crime fighting strategies after participating in a 10-week course hosted by the FBI National Academy in Virginia, United States.
Benjamin, who heads the Special Branch of the Royal St. Vincent and the Grenadines Police Force, returned to St. Vincent last month after participating in the programme, which was attended by 268 law enforcement officers, comprised of men and women from 49 different states; 27 international countries; four military organizations and five federal civilian organizations.
"It brought together decision makers from various levels and organizations. It is evident that challenges we are encountering here as a law enforcement organization are similar to what the participants are encountering. Hence, at the discussion level, we did not have to reinvent the wheel. We were able to draw on past experiences and actions, thus, creating innovative ways for addressing crime," Benjamin said.
During the course, Benjamin was trained in the national academy networking, enrichment and fitness in law enforcement programme; interview strategies through statement analysis; leadership; ethics, decision making; crime analysis: advanced theory and application; basics in criminal justice research, advance investigation management; and intelligence theory and application for law enforcement managers.
"Having benefitted from this training, it clearly indicates the need for networking. It also shows that we have to build on communication," Benjamin said.
Benjamin, who headed Prime Minister Dr. Ralph Gonsalves' security detail for several years prior to leading the intelligence arm of the Police Force, added: "This programme helped to broaden my horizon. It helped me to see security from a whole new perspective. We were exposed to a number of innovative systems for doing things."
He said the programme reminded him of a quote by Albert Einstein, "Imagination is more important that knowledge."
Training for the programme was provided by the FBI Academy's instructional staff, special agents and other members holding advanced degrees, many of whom are recognized internationally in their field of expertise.
Participants for this programme were able to earn undergraduate and graduate credits for the University of Virginia, due to the university accreditation of several courses offered.
The course culminated on March 22 with a graduation ceremony at the Academy, which was addressed by FBI Director, Robert Mueller.
The FBI National Academy is internationally known for its academic excellence.
(Police Public Relations & Complaints Department)