KINGSTOWN, St. Vincent, April 3, IWN – A group of shareholders of the Building & Loan Association wants politician and economist Luke Browne to stop talking in the media about the cash-strapped building society.
Browne, an economist at the Ministry of Finance, wrote a newspaper letter in January raising concerns about the management of the BLA which was, at the time, supervised by his ministry.
Browne was also a candidate for the ruling Unity Labour Party in the 2010 general elections.
His letter in a local newspaper triggered a run, which saw $9 million withdrawn from the BLA in two weeks.
A committee of BLA shareholders was elected last month to interface with the Financial Services Authority, which took over the BLA on Feb. 1.
Junior Bacchus, chair of the committee, told shareholders at a meeting in Kingstown on Tuesday that during talks with the FSA on March 12, they discussed trying to influence politicians to stop making public comments on the BLA.
"Since that meeting with the FSA, we saw Luke Browne appearing on a television programme on IK TV and we met, as a committee and we decided to write to the FSA [asking that the FSA try] to influence Luke Browne to stay out of the media in discussions on Building & Loan," Bacchus said.
"We have made that request to them in writing, because, remember, as I reported earlier, we had promised to try to keep the politicians out and he must be seen both as a politician and a worker in the Ministry of Finance."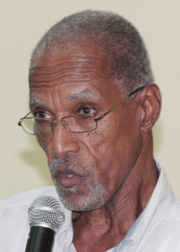 Meanwhile John Horne, a former lawmaker under the New Democratic Party administration, said it was the role of the Government to curb Browne's statements on the BLA.
"Did I hear [you] say that you had approached the FSA to ask Mr. Luke Browne to soft-pedal? I respectfully suggest, that is the role of his employer, within the context of the regulations governing his employment. So, I think that is the approach," Horne, a former West Kingstown representative said.
Since his letter was published, Browne also called into radio programmes and was a guest on a radio panel discussing the BLA.