By E. Glenford Prescott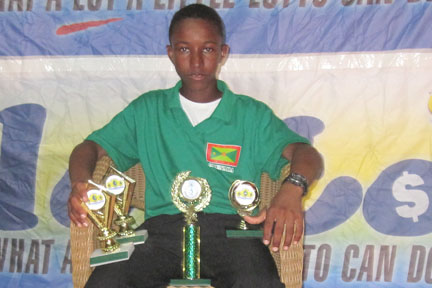 Grenada's Emmanuel Stewart strolled away with most of the major awards at the Awards Ceremony of the 2013 Windward Islands Under-13 cricket tournament which ended in St. Vincent on Wednesday.
Among them were the most runs, best wicketkeeper, MVP for his team and MVP of the tournament.
Stewart, a diminutive number three batsman, hit the tournament highest aggregate of 349 runs at an average of 64.80. This included four half centuries 87, 81, 66, and 54*.
The Grenada captain was also adjudged the best wicketkeeper by the panel but not statistics were made available on his performance behind the stumps.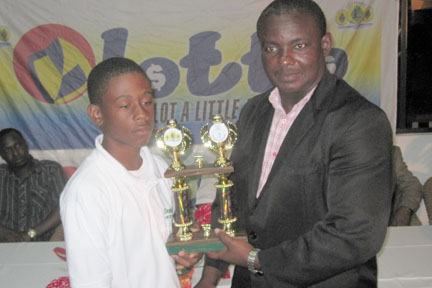 St. Lucia's Stuart Calderon and Grenada's Narun Singh with 13 wickets each were the joint top wicket taker in the tournament with 13 each.
Left-arm spinner Singh 13 wickets came at 10.15 with a best bowling of 6-17, while right-arm offspinner Calderon got his at 13.07 with a best of 5-37.
In the MVP for each country Delorn Douglas was named that person for SVG after being their top runscorer with 143 runs at 23.80 with two half centuries and a highest score of 62. Johnnel Eugene was named as St. Lucia's MVP after scoring 183 runs at 61.00 with a best of 60*. He also picked up eight wickets with his offspin at 19.75 apiece. Dominica's captain and lead batsman, Leic Charles took the award for his country with 193 runs at 64.33 and a bet score of 54.
Dominica won the tournament with 10 points from five victories. Grenada were second on 8 points with four victories and St. Lucia third also on 8 points, but lost in the head-to-head. SVG ended in the cellar position without a point after failing to win any of their six matches.