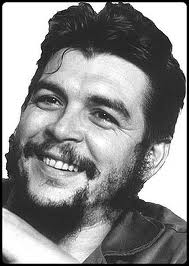 I went to the well-advertised airport extravaganza at Argyle. What a poor turnout it proved to be. There were few independent bystanders. Those that turned up were those who were required to attend by the regime and party, and a handful of others and the inquisitive. There were also a number of tipper trucks loaded with men that were shipped in from Georgetown, and other ULP constituencies — a little padding. I understand that contributions to the airport fund on the day, amounted to EC$3,000. WOW!
What shocked me was the blatant use of Che Guevara's name on the project. I felt it was the last straw to use this disgusting man's name on the project — "Chatoyer-Che Contingent". Che. Why do we need to put this man's name on our project? It's a disgrace.
What an insult to Vincentians. What an insult to decent people. What an insult to the decent Cuban people he murdered.
For more than 50 years now, Cuban imperialism and their totalitarianism has brought misery to the people of third-world countries.
Che Guevara was simply a Stalinist/Maoist who tried to impose Cuban Communist imperialist totalitarianism on people who rejected it. Bottom line: Che Guevara is a mass murderer, not a hero. Instead of honouring Guevara, people should honour real freedom fighters like Vaclav Havel, who brought freedom and democracy to the former Czechoslovakia. Today, both the Czech Republic and Slovakia are prosperous democracies.
Supporters like to view Guevara as someone who suffered with his people, a man too idyllic to concern himself with matters such as money and material possessions. Guevara didn't show any discretion when it came to his lifestyle choices during and after the revolution. He lived in a mansion only a week after entering Havana, Cuba. The owner of the mansion was forced to flee Havana with his family in order to escape a firing squad. Guevara's property plunder contained a yacht harbour, a huge swimming pool, seven bathrooms, a sauna, a massage salon, and five television sets. He held a number of decedent celebration parties there. Out of fear no one dared talk about it.
Guevara's first judicious act was to preside over a book burning of 3,000 confiscated books and the signing of death warrants for hundreds of Cuban authors who wrote those and other books which he did not approve of.
Guevara was personally responsible for the trial and execution of hundreds if not thousands of people without any judicial hearing, just his own decision, guilty — not guilty, death by shooting, or rot in prison. With the prisons full to overflowing, few now got a prison sentence; it was a bullet for the most trivial matter.
In 1964, Guevara got a hero's welcome in New York City as he spoke to the United Nations and bellowed, "Executions? Certainly, we execute! And we will continue executing as long as it is necessary!"
Guevara's held the position as Fidel's chief executioner. In a passage from his own famous "Motorcycle Diaries," he quotes himself as saying, "My nostrils dilate while savouring the acrid odour of gunpowder and blood." At the same time, he wrote a letter to his father describing his newfound hobby, "I'd like to confess, Papa, at that moment I discovered that I really like killing."
Fidel Castro recognized this ruthlessness about Guevara, and placed him in charge of La Cabana prison in Cuba, where he was judge, jury and executioner. Although exact numbers are impossible to find given their haphazard application, Guevara is estimated to have sentenced over 500 people to execution at La Cabana prison alone, without proper trials.
Several men who survived La Cabana prison recall a night when a 14-year-old boy was shoved into their holding cell. When asked what he did, he gasped that he had tried to defend his father from the firing squad, but was unsuccessful.
Moments later, guards dragged the boy out of the cell, and Che Guevara himself ordered the boy to kneel down.
The jailed men screamed "assassins!" and watched out of their cell window as Guevara took out his pistol, put the barrel to the back of the boy's neck, and fired.
April 1st 1965: Che Guevara is an Argentinian with Cuban citizenship, he decided to resign his Cuban citizenship and leave to wage armed struggle in Latin America.
May 1st 1965: Guevara writes a farewell letter to Fidel Castro.
October 3rd 1965: The new Communist Party of Cuba is inaugurated.
October 9th 1967: Che Guevara is killed in Bolivia by U.S.- trained Bolivian rangers in the village of Vallegrande, he was summarily executed.
References:
Quote about individualism by Che:
Jon Lee Anderson, Che:
A Revolutionary Life, p. 470.
Thoughts about hippies, gays and rock and roll lovers: Daniel James, Che Guevara:
A biography and Canek Sanchez Guevara (CheGuevara's grandson) in an interview with Proceso magazine.
Estimated 500 executions: More modest estimation of executions from cables sent from the American embassy in Havana to the State Department in Washington.
The "Motorcycle Diaries" of Che Guevara
The Killing Machine, Alvaro Vargas Llosa
Cuban journalist Luis Ortega wrote in his book Yo Soy El Che! that Guevara sentenced 1,892 to execution.
Daniel James in Che Guevara: A Biography, says Che admitted to several thousand executions.
Pierre San Martin spoke about the executed boy in an article entitled Como Asesinado El Che Guevara in El Nuevo Herald on
December 28, 1997. The article was then summarized in Humberto Fontova book Exposing the Real Che Guevara.
Unfortunately the application of history altered Marxist style was applied to Guevara, instead of being recorded as a ruthless bloodthirsty killer, he was branded a hero.
Now this man's name decorates the Argyle airport on huge signs. All because our prime minister admires the Cuban sociology, and the Cubans probably required the use of his name, it would have been their decision, and his ready agreement.
Every day, I thank God that Vincentians were clever enough to reject the proposed new constitution in the referendum. Can you just imagine how much further we would be in the mire if it had carried the "yes" vote?
Mr. Prime Minister, if you want to use the name Che, put it on your new house, not on a public project, without consent of the people.
Peter Binose