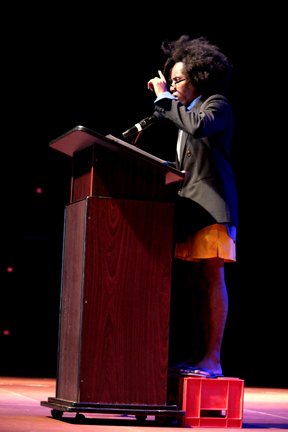 As a politician who aspires to be the nation's first female prime minister, Anesia Baptiste might have intended to be anything but funny when she included two opposing political ideologies in her party's name — Democratic Republican Party.
But Shevrelle "Candy Man" McMillan was indeed looking for laughs when he gave his "political party" a name, the acronym of which one would not say in polite company: the Sensible Honourable International Trusted party.
And when he unveiled his party's "policies" during a performance at Victoria Park as part of the Miss SVG 2013 pageant, Candy Man sent patrons and media audiences into throw back laughter.
Under a Sensible Honourable International Trusted party, Vincentians need not worry about investment risk as Candy Man will take some advice from calypso and soca artiste, Cornelius "Poorsah" Williams, and secure investments in "the hairy bank".
"Operation Cut It Out" will deal with crime and its causes and the criminals themselves.
Candy Man will seek a cure for the most debilitating disease in the country: "bad mind".
And, with a change of the national colour to blue, the nation will sing the blues, actors will act the blues, students will study blue books and footballers, basketballers and cricketers will play with blue balls.
Mc Millan, who in 2010, retired his "Contestant No. 12" character because of unwanted advances by gays, laid out his party's policy for dealing with homosexuals.
But some, including gays and rights advocates, might not have found this part of the policy that funny.
Here is Candy Man in his own words:
http://www.youtube.com/watch?v=NKhrIJPghhU