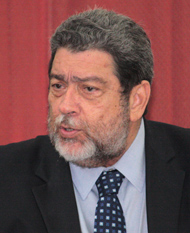 Having your child help out in the family shop can raise concerns about child labour in the United States.
Prime Minister Dr. Ralph Gonsalves used sarcasm as he made the point on Monday while commenting on this year's Trafficking in Persons Report prepared by the United States.
The report said this country is "a source, transit, and destination country for some men, women, and children subjected to forced labour and sex trafficking".
It further says that officials have expressed concern about the possible existence of adults pressuring children under the age of 18 to provide sex acts to men in exchange for money or gifts, a form of sex trafficking.
"Officials have also raised concerns regarding foreign women engaged in prostitution in or transiting through the country.
"Other vulnerable groups include foreign workers and children under the age of 16 working in shops," the report further said.
"Well, I never knew that since I was a little boy in my mother's shop, where I learnt so much, that there was some child labour there or that there was some trafficking in persons. I never knew that. I always thought it was a wonderful education. But, you know, you live and you learn and I am prepared to learn and I understand our context," Gonsalves told a press conference in Kingstown.
Gonsalves said he puts "a lot of query about this trafficking in persons report.
"I've made my position known already about this unilateral assumption by the United States for grading people. But, for what it is worth, we are at Tier 2. There is no country in CARICOM, which is Tier 1," he observed.
Tier 2 groups countries whose governments, the United States says, do not fully comply with the trafficking in persons minimum standards but are making significant efforts to bring themselves into compliance.
SVG has been removed from the Tier 2 Watch List, a previous categorisation.
Tier 2 Watch List comprises countries whose governments "do not fully comply with the Trafficking Victims Protection Act's minimum standards, but are making significant efforts to bring themselves into compliance with those standards …"
Barbados, Guyana, St. Lucia, Suriname, and Trinidad and Tobago remain in that category.
"So we have a better ranking than those on the Tier 2 watch list. But, as I say, I have a problem with many of their comments and we've made those known."
Gonsalves noted that the United States has expressed concerns about the extent of prosecution of crimes relating to the trafficking in persons.
"Now, I don't prosecute. If the DPP (Director of Public Prosecution) doesn't find the particular evidence as passing their test to prosecute — but there are the systems in place. We passed the law, we report to Parliament, we do the awareness, and all the rest of the stuff," he said.