Opposition Senator, Vynnette Frederick was, Thursday afternoon, slapped with nine charges hours after the court dismissed six charges against her.
Frederick was granted bail at the Central Police Station in Kingstown around 5 p.m. Thursday and is scheduled to appear in court Friday morning.
Trinidadian Keith Scotland, one of Frederick's attorneys, said nine charges were proffered, but did not detail them.
"We wouldn't want to speak too much about the charges because they are now before the court," he told I-Witness News shortly after Frederick was released on Thursday.
Andrew Pilgrim, QC, a Barbadian, who is also a member of the defence team, however said, "We could say they are alarmingly similar to those that were before the court before."
"And that is all we would say in respect of the charges at this point in time," Pilgrim further stated, adding, "… we have reserved further comment because the matters are now before the court, sub judice as we say, and we have to be circumspect with what we say about these matters."
I-Witness News understands that Frederick was charged with making false declarations, swearing falsely, and fabricating evidence.
The six charges dismissed on Thursday relate to evidence that Frederick submitted as part of private complaint against Prime Minister, Dr. Ralph Gonsalves after the December 2010 general elections.
Those matters were thrown out and in September 2012, Frederick was charged "that on
January 10, 2011, at Kingstown, she did make a false declaration before Sonya Young, a magistrate, a person authorised to take a declaration upon a matter of public concern, under circumstances that the false declaration, if committed in a judicial proceeding, would amount to perjury".
Frederick, an attorney and former candidate for the NDP, was also charged with making false declarations on June 16, 2011 and May 23, 2012 before Faye James.
On Feb. 15, 2013, three counts of swearing falsely before Sonya Young and Faye James were brought against the senator.
But Magistrate Rickie Burnett, sitting at the Kingstown Magistrates' Court, has upheld an April 2013 defence submission that the six charges against the senator lacked details and particulars.
He dismissed the matter and told Frederick she was free to go.
But police arrested the senator about three hours later in a restaurant in Kingstown, where she was having lunch with her attorneys, relatives, and members of the New Democratic Party (NDP), including party president, Opposition Leader Arnhim Eustace.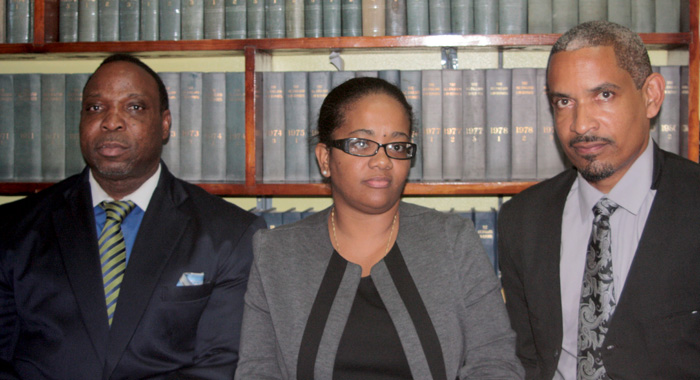 Scotland, recounting the arrest of Frederick, said that while they were having lunch, a group of police officers, "came into the establishment and demanded that Frederick accompany them to the Central Police Station, without identifying themselves initially, without producing any warrant issued from the High Court for her arrest, or any document whatsoever from any court.
"Eventually, an inspector identified himself via his identification card, but the short of the long is they then forcibly took Miss Frederick down to the Central Police Station and nine charges were now proffered against her," Scotland said.
Frederick, speaking during the same interview, said she did not have "any comment at this time" regarding the charges against her.
Asked about her encounter with the police, she said, "We live in a police state".
She, however, did not elaborate on the reason for her comment.
Meanwhile, Member of Parliament of Central Kingstown, St. Clair Leacock, who is also a vice-president of the NDP, told I-Witness News in the same interview that he was "shocked by the events of today".
He noted that during the trial there were hearings in Kingstown, Marriaqua, Biabou, Georgetown then Kingstown again.
"… So we have in fact completed the circle but I really didn't understand that we were on the way to witnessing a circus," he told I-Witness News.
"So I was elated when that matter was thrown out by the magistrate, having carefully studied the presentation of learned counsel. And when I heard later on that Miss Frederick was being pursued by the police and in fact had been arrested, I was not just surprised, but horrified," Leacock said.
"There has been an on-going concern about the extent to which justice really prevails in St. Vincent and that explains why Senator Frederick is referring to us as perhaps being in a police state — rather strong language," he further stated.
"But one gets the impression that she is being harassed and clearly there must have been a plan B with respect to today's activities. That is, this matter is going to go before the court, we are not likely to be able to stand based on the evidence before the court, but Vynnette Frederick will not get away, we will add additional charges, amend those that were there before and we will have our day. I think that is the outcome," Leacock said.
And, Opposition Leader, Arnhim Eustace, speaking to I-Witness News separately, said six of the charges brought against Frederick "are the same charges — they changed a few words in them and three are new charges…
"I just get more of a feeling that this is a police state. The magistrate made his position very clear this morning," Eustace said shortly after leaving the Central Police Station.
"I really don't know. The magistrate was very clear. He said there was no justification; there were no particulars to justify the cases," he said of the initial cases.
Meanwhile, Pilgrim told I-Witness News that the dismissal of the charges Thursday morning should be comforting to Vincentians.
"The people of St. Vincent should feel happy that their judiciary is not sleeping and that the decision, as given today by the senior magistrate, is extremely well reasoned and I was extremely impressed by his scholarship and his courage in giving that decision," the Barbadian attorney said.
(Watch video below of Frederick being arrested)
http://www.youtube.com/watch?v=QT9Yxm967E4