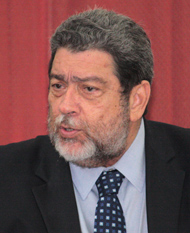 Don't worry about the size of Prime Minister Dr. Ralph Gonsalves' belly — he says he has more guts than members of the opposition put together.
"… for one opposition member, apparently, the size of my abdomen is a reason to protest, because he spends his time talking about my belly," Gonsalves told a press conference on Monday.
"Well, you know, what I can tell them, I have more guts than all ah them put together," he said and broke out in laughter.
He accused the media of giving the opposition "a free pass".
"Where's the policy?" the prime minister said in relation to the speeches the opposition gave during their protest events this month.
"Then you have fellas taking off and attacking the Speaker that he coming for him…" he said in an apparent reference to West Kingstown MP, Daniel Cummings.
"But that level of abuse would tell you the approach of these men and women. They are entirely desperate for power. That's all. What they will do with it? Nobody knows," Gonsalves said.