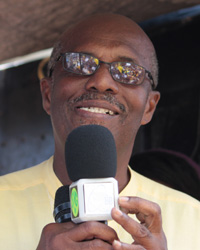 Opposition Leader Arnhim Eustace says he believes that electricity consumers pay, through the surcharge, for fuel used at the Argyle airport, contrary to what the Government has told Parliament.
Prime Minister Dr. Ralph Gonsalves, responding in Parliament this month to a question from Eustace said that to include the fuel in the electricity surcharge would be illegal.
But Eustace told supporters of his New Democratic Party at a rally in Layou on Tuesday that he believes the Prime Minister lied.
He said while he had his own suspicions about the fuel surcharge, he "had to ask a question, hoping to get an answer".
"The answer I got, I believe it's a lie. That's my view," Eustace said.
VINLEC, the state-owned and sole electricity company, imports, under the PetroCaribe initiative, fuel for electricity generation.
But the company also imports fuel for equipment at the Argyle international airport construction site.
"I want to know whether the airport diesel is added into the surcharge which you [are] paying. But I can't get a proper answer," Eustace said.
"He say it don't happen but there are some things they have to explain later. What other things they have to explain?" Eustace said of the Prime Minister.
He used an illustration saying that if VINLEC imports $5 million in diesel, including $1 million for the airport, the fuel surcharge should only be levied on the $4 million used for electricity generation.
"They charging the surcharge on the five million or they charging it on the four million? You don't know. I believe they charging it on the full five million and you [are] paying what the airport should pay. In any event, even if you [are] paying that, you [are] still paying back the airport loans and everything you know. That is what it boils down to and you must understand these things," Eustace said.
But Gonsalves told Parliament last month that there is "absolutely no subsidy" by VINLEC to the International Airport Development Company (IADC), the state-owned firm overseeing the building of the airport.
"Again, that is another falsehood that the reason why the fuel surcharge is so high [is because] VINLEC [is] subsidising IADC," Gonsalves said.