Businessman Leon "Bigger Biggs" Samuel says he will take outside Parliament today (Thursday) his one-man protest, which he hopes will pressure the Government to reinstate his licence to mine-aggregate at Rabacca.
The Government revoked the licence in February 2011 sighting environmental impact and non-compliance with the terms of the agreement.
Samuel has said the decision has brought his block-making business to a halt and has resulted in the 45 to 60 persons he employed losing their jobs.
On Sunday, as the Regional Reparations Conference opened at Victoria Park, Samuel staged a one-man protest there.
Samuel carried a placard which said that Prime Minister Dr. Ralph Gonsalves does not have the moral authority to seek reparations on his behalf.
Prime Minister Gonsalves has convinced his CARICOM colleagues to form a Reparations Commission to seek from Europe, reparations for native genocide and slavery during colonisation.
"I am going to use every opportunity I get. I am going to intensify my fight now," Samuel said when asked why he will protest in front of the Parliament building today.
"I still want to believe that there are people in this country, even if not necessary the policymakers, but people who are close to the policymakers, who have a heart and who, I believe, will encourage them to look into the matter with Bigger Biggs — try get this thing resolved," Samuel told I-Witness News.
"I might be wrong, but I still believe there are goodhearted people in St. Vincent and the Grenadines still," he further said.
Regional delegates attended the opening of the Reparations Conference on Sunday and thousands of Vincentians turned out to the event, where Jamaican artiste Bunny Wailer performed.
"I was trying to get my message to go outside of St. Vincent and the Grenadines and I think I have been able to accomplish that, because I am sure that persons who [were] at Victoria Park from overseas were reading," Samuel said of the reason for protesting there.
"Because somebody comes and stands up in the middle of them, one person picketing, they would get curious," he further stated.
"I think at least somebody … have left St. Vincent knowing there was some disgruntled person in St. Vincent. The only thing I am sorry for, the placard I am going to use tomorrow (today) is going to be a little bit more explanatory than the one I had on Sunday," he further explained.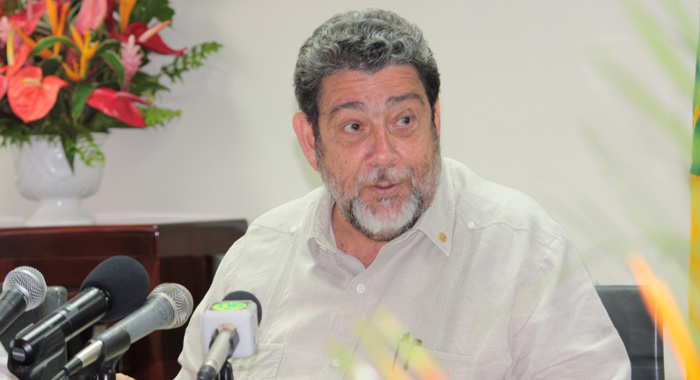 Samuel said he has been in conversation with Gonsalves since December 2012.
He said that Gonsalves told him last month that he has instructed the relevant persons to reinstate the licence.
"I personally believe that I am being given the run-around; because I think if Dr. Gonsalves really wants [them] to act, [they] have to act. … I want the Prime Minister to honour his commitment," Samuel said.
Gonsalves, in his address on Sunday cautioned against trivialising the reparations effort, saying remedies are available in the national legal and political systems for persons who feel wronged by their government.
But Samuel said that his is also a case for reparations.
"… the term reparations, as we all know it in the English dictionary, is to make amends or to repair damage. If we are looking to go forward as a unified nation, I personally think let us start from home. And people were of that opinion Sunday and said even if we start to resolve the problem at home, you will have better uniformity going forward, because you are talking about reparations. Reparations is a broad word. .. Leh we talk reparations in its entirety," Samuel told I-Witness News.
Samuel further said that on this matter he prefers to avoid the court.
"He (the Prime Minister) gave more than one alternative but I choose to use the one of dialogue – diplomacy — because when you go to court, because of the nature in which my business was shut down, it would not be a cheap and a short matter to be argued in court," Samuel told I-Witness News.
"And when you go to court, you close off all other avenues. Basically, you have chosen a position and you shut off all other possibilities and that is what I don't want to do at this time. … It was a law that was made by Cabinet so it is a law that can be repealed by Cabinet. It is not something that is cast in stone," he further said in reference to the revocation of his licence.
Samuel said many of his former employees "are suffering from serious stress and that is one of my biggest concern.
"That is one of the reasons why I am upping my protest. They are suffering, they are hurting. Most of my employees…, especially in the office, they are ladies and they are single parents…"
The Government did not put me in a position where they say it is this or that. I am basically hanging in limbo. And it is a bad, bad state of mind to be in. My employees … are hurting badly."
Asked if the former employees are supporting his protest action, Samuel said, "You know people in general. Vincentians are living in fear and when I go out and fight this battle and success comes, they will get the benefit.
"And never mind, because I like to be a one-man army. … All you want by your side is good support from a female friend and I am good to go. When the crowd begins to get too big, it takes away …" he told I-Witness News.
He said that while he thought that the reasons cited for revoking the licence were "negligible and they were not enough for the approach that was taken", between March and February of 2011, he "went straight ahead and put in corrective measures".