Caribbean people are being urged not to "trivialize" the reparations exercise by saying that Government must first right wrongs against their citizens before seeking redress from Europe.
The call came from Prime Minister Dr. Ralph Gonsalves on Sunday as he addressed the opening ceremony of the Regional Reparations Conference at Victoria Park in Kingstown.
"I am urging that all Caribbean people, at home and abroad, to come aboard the reparations train and participate meaningfully in its journey for reparatory justice," told the audience, which including thousands of Vincentians and regional delegates.
"This issue is huge; it is a fundamental, defining matter of our age and for this 21st century. It is a great cause, and great causes have never been won by doubtful men and women," he further said.
"'Reparations' is a subject which no one ought to trivialise. For example, there are those who demand that "reparations" be first made to Tom, Dick, Mary, or Jane who consider that this or that Caribbean government or leader has wronged them. Remedies for such wrongs are available in the national legal and political systems. If one uses the concept of 'reparations' loosely, for anything and everything, it loses its real meaning for us," the Prime Minister said.
He was speaking from a prepared text at the event at which businessman Leon "Bigger Biggs" Samuel staged a silent protest.
Samuel's block-making and aggregate-mining business, said to be worth some EC$7 million, and which employed between 45 and 60 persons, came to a halt two years ago when the mining license was suspended amidst allegation of negative environmental impact.
Samuel says that efforts to have the licence reinstated have proven futile even as, he says, Gonsalves has promised that his government will look into the issue.
Samuel carried two placards. One read "Dr Gonsalves does not have the moral authority to seek slavery reparations for me." The other said, "Reparation Time Help me Little me can't fight the mighty U.L.P."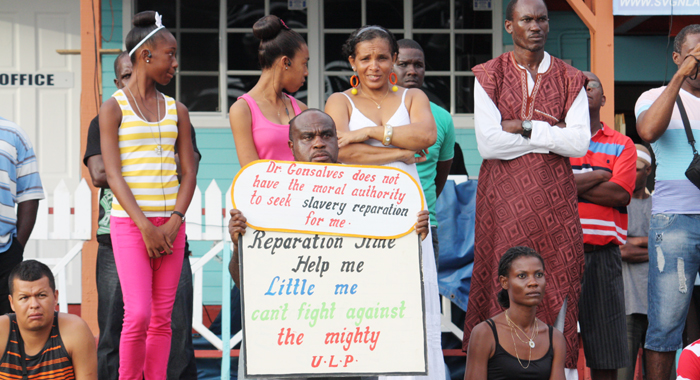 CARICOM leaders in July agreed to the formation of a Reparations Commission as the region seeks from Europe reparations for slavery and native genocide during colonization.
Gonsalves said the descendants of the Callinago, the Garifuna, the Amerindians, and the Africans have an especial obligation to fight for reparatory justice.
"After all, their forbears were directly affected and, most importantly, together, they constitute the majority population across our Caribbean. Clearly, too, the struggle for, and leadership within, the national and regional reparations movement is for persons of every class, creed, race or ethnic group. We are all in it together. That is the nature of our Caribbean civilisation. And our entire civilisation stands to benefit from reparatory justice; it is not about payment of monies to individuals. It is a collective enterprise of our Caribbean civilization," Gonsalves said.
He said it has been "established in international law that 'reparation must, as far as possible, wipe out all the consequences of the illegal act and re-establish the situation which would, in all probability, have existed if that act had not been committed'.
"A claim for reparations revolves, critically, around three criteria: the injustice or historic wrong in question must be well-documented; the victims of the injustice or historic wrong must be identifiable as a distinct group; and the current members of the group must continue to suffer the consequences of this injustice or wrong. In our Caribbean, the case for reparations for native genocide and slavery is surely unanswerable," Gonsalves said ahead of two full days of discussion on strategies and other issues related to the regions reparations quest.