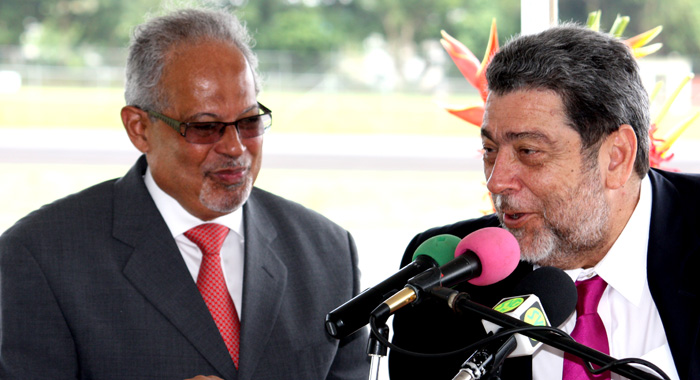 Chair of LIAT's shareholder governments, Prime Minister Dr. Ralph Gonsalves says he does not know why Ian Brunton resigned as the airline's CEO after just one year on the job.
LIAT's board of directors announced late September that it had accepted Brunton's resignation, effective last Monday, Oct. 1.
"I really don't know what are the reasons for Captain Brunton's resignation because none was offered; certainly, I have not seen any communications offered to the chairman and sent to me, or the person who is acting chairman, Isaac Solomon, who is a Vincentian …" Gonsalves said in response to a question on Monday.
"I know that on Friday I saw an email, the email was sent to the chairman, Jean Holder and to Isaac Solomon, a copy was sent to me and I think Ian Brunton was having second thoughts that maybe he should pull back. But this is a matter which was dealt with by board, not by the shareholders, and that is where it is," Gonsalves further said at a press conference.
Brunton's resignation comes as poor implementation of LIAT's re-fleeting exercise over the past few weeks have wiped off any profits that the airline hoped to make over the summer period — one of its busiest.
The implementation of the fleeting exercise also saw a number of flights cancelled and major delays as pilots trained to fly the airlines new ATR aircraft could no longer fly the Dash-8 — the majority of the planes.
Brunton himself said LIAT experienced a "disastrous summer" this year.
Asked if there was any "gentle persuasion" for Brunton to go, Gonsalves said, "Absolutely not.
"I didn't speak to Ian about it and I know that Baldwin Spencer (Prime Minister of Antigua and Barbuda) didn't because I saw Baldwin in New York and we spoke about the matter and I didn't communicate with my brother Freundel Stuart but from what I know, he was not involved either.
"This is a matter entirely dealt with by the Board of LIAT," Gonsalves said.
LIAT is owned by the governments of St. Vincent and the Grenadines, Barbados, Antigua and Barbuda and Dominica.
Brunton came to LIAT from its competitor — Trinidad and Tobago owned Caribbean Airlines.
He has over 50 years' experience as a pilot and was appointed CEO of CAL in 2009.
He was dismissed in 2010 following a "verbal disagreement" between the airline's then chairman and line minister, respectively.