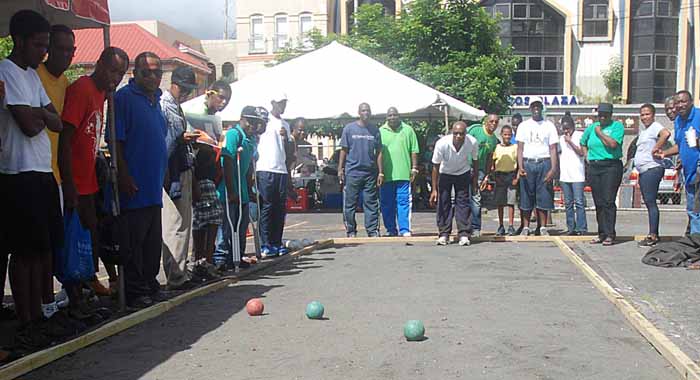 By Robertson S. Henry
Many of St. Vincent and the Grenadines' intellectually challenged, respectfully recognized as Special Olympics Athletes, along with friends, converged on the Solidarity Car Park, Kingstown, to observe Eunice Kennedy Shriver Day — EKS Day.
Eunice Kennedy Shriver was the founder in 1962 of Camp Shriver, which, in 1968 evolved into Special Olympics International.
The day's Special Olympics event was in collaboration with the Bank of St. Vincent and the Grenadines with the theme "Play Unified to Live Unified". The many persons who gathered took part in a series of friendly, Bocce matches. Amongst those friends were Assistant Superintendent of Police Jonathan Nichols and acting Commissioner of Police Michael Charles who, along with two other colleagues, formed a team that enjoyed mixed success.
Also participating was the Caribbean Youth Environment Network (CYEN) SVG.
The Special Olympics Athletes displayed touches of such skill — which their counterparts were hard-pressed to emulate!
Saturday's event was more than just the observance of EKS day. It also signaled the commencement of activities of St. Vincent and the Grenadines Special Olympics, leading towards the organization's National Sports games, scheduled for Nov. 8 and 9 at the Victoria Park.
In preparation for the Special Olympics National Games, six coaches from different sporting disciplines met with SOSVG's National Director, Janice McMaster and Board Director, Terrence Davis in September to initiate a way forward for Vincentian Special Olympic athletes.
The Special Olympics National Games' Athletes will compete in a number of disciplines including football, athletics and Bocce as they vie for selection into the island's national team, to participate in the 2015 Special Olympics International Games to be held in Los Angeles, California.