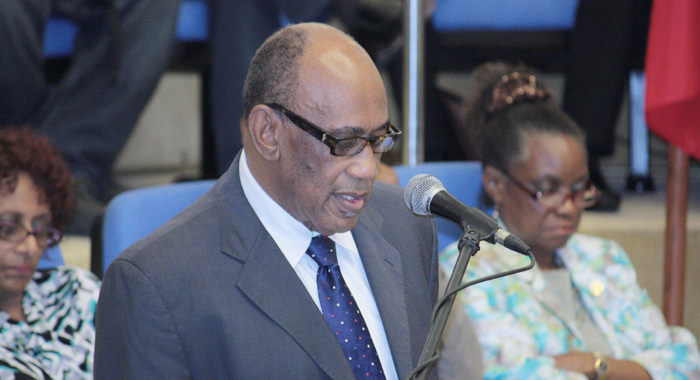 GEORGETOWN, Guyana — The head of the region's leading agricultural research agency has suggested some ways in which CARICOM can reduce it US$2 billion annual food import bill.
Dr. Arlington Chesney, head of the Caribbean Agriculture Research and Development Institute (CARDI) made the recommendation on Wednesday as he addressed the official opening of Caribbean Week of Agriculture.
He said CARICOM must recognise that agriculture is crosscutting and is not only the responsibility of the agricultural sector.
"It s a national and Cabinet responsibility."
Chesney also called for increased investment by both the public and private sectors.
"For example, in 2012 and 2013, a sampling of regional governments showed that they allocated only between 1.33 per cent and 5.25 per cent of their national budgets to agriculture," Chesney pointed out.
He further stated that there must be increased capacity building both at the formal and "on the ground" levels and including group development.
"We need to be able to allow our farmers to work together, our entrepreneurs to work together.
He also called for more in research and development at the national and regional levels.
"With these implementations, we will make false the projection that 'by 2015, 80 per cent of the population of Latin America and the Caribbean will live in cities, creating increasing challenges for environmental sustainability, employment, etc.'," Chesney said.
He further said that CARICOM citizens can duplicate in agriculture the successes they have enjoyed in academia, sports, culture, and other disciplines.
Chesney noted that CARICOM is a region of 15 million people that has the unique record of having endured slavery and indentureship.
He however pointed out that the region has produced three Nobel laureates (Sir Authur Lewis, V.S. Naipaul, and Derrick Walcott), the world's best cricketer ever (Sir Garfield Sobers), the batman who has attained the most individual records in cricket (Brian Lara), and dominated the world scene longer than any other other team regardless of the sport.
He further spoke of the region's prowess at the Olympics and World Games, musical great Bob Marley, and steelpan — the only musical instrument invented in the 20th century.
"These achievements and stellar performances can only be obtained by a people that individually and collectively have natural brilliance, an ability to conceptualise, innovate and implement with a supporting ability to be disciplined and show 'stick-to-ivity' over the long haul," Chesney said.
"Why then must we second judge ourselves as to whether the Caribbean Week of Agriculture, the Alliance, and the Jagdeo imitative is not what it should be and cannot do the same thing to the agricultural sector as was done in the other sectors.
"As the minister just said, we need to believe in ourselves, we need to believe," he said, repeating the charge of Guyana's Minister of Agriculture, Dr. Leslie Ramsammy.
Caribbean Week of Agriculture, the premier agricultural event on the region's calendar, brings together stakeholders for a week of activities to promote agriculture and agri-industry via policy dialoguing, learning sessions, and an exhibition showcasing the fruits of the sector.
A major sponsor of CWA, which ends on Saturday, is the Technical Centre for Agricultural and Rural Cooperation (CTA), a joint ACP-EU institution active in agricultural and rural development in ACP countries.