The Government on Friday launched the National Economic and Social Development Plan 2013-2015 with Prime Minister Dr. Ralph Gonsalves saying that it will be a roadmap for any administration here over the next 12 years.
"We are seeking to do something in the socio-economic sphere to build a home-grown consensus as to where we should be going," Gonsalves said at the launch, which comes two days ahead of the celebration of the nation's 34th anniversary of Independence.
The Plan offers a vision for improving the quality of life for all Vincentians and is anchored in the achievement of eight "super-arching goals", the Government says.
The goals are:
1. High and sustained levels of economic growth.
2. Reduced unemployment and poverty levels.
3. Improved physical infrastructure and environmental sustainability.
4. High levels of human and social development.
5. A peaceful, safe and secure nation.
6. A technologically advanced workforce.
7. A deep sense of national pride and cultural renaissance.
8. Regional integration.
Gonsalves, delivering the feature address at the launch of the Plan in Kingstown, noted that citizens in 2009 rejected proposed changes to the nation's Constitution.
The government had argued then that the changes would have made the constitution more home-grown.
"And in this one, the politicians have not been out-front," he said of the Plan, which seeks to improve on previous Plans which spanned the period 1947 to 1995.
"Now, we have put down our marker. We, as a people have put down our marker in consensus," he said, adding that there has been wide-ranging discussion, and that the Government has brought in foreign experts to suggest "a body of ideas which we may be able to incorporate in it" and also drew on local experiences and the local condition.
"If someone wants to challenge the bases, the premises and this outcome document, I am willing to engage in a debate on that subject. And don't threat it flippantly, this Plan," Gonsalves said.
"Threat it as s serious effort, home-grown, where we are engaged, as a civilised people, in an act of self-mastery."
Gonsalves acknowledged the possibility that there might be "another perspective, another set of ideas, different to these.
"But I will wager that whatever happens in the political sphere over the next 12 years, that anybody who comes to the crease has to take guard with this. … If this tells you that you have to bat on middle and leg, that is where you have to bat. You can't go and bat outside of the off stump. Don't let anybody else fool you about that," he said.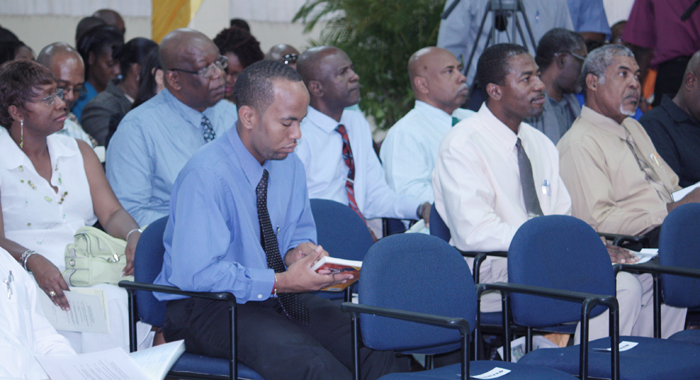 "This is a consensus for socio-economic development. I am not telling you it is a blueprint. But when you go to the next election and you see the manifestos of the two major political parties, if you don't find the ideas here reflected in both of them, then you know one of them [is] wrong," said Gonsalves, whose Unity Labour Party will seek a fourth term in office in general elections due by the end of 2015.
"And I will wager too that both manifestos will be reflecting what is in here because they constitute a consensus," he further said.
"We have had too much unserious discussion by people who don't understand a number of these kinds of questions and people who are just too glib without a sufficiency of reflection.'
But Gonsalves also anticipated and responded to some of the criticism of the Plan, most notably the absence of a framework for the private sector.
"… if it is critiqued that it doesn't provide a lot of details as to what other sectors would be doing other than how the State is fashioning the framework in this partnership, it is because it is not a centrally-planned regime, not a centrally-planned economy, in which the State has control over the level of foreign direct investment and of domestic investment and what is possible in all of the sectors, in a specific timeframe or what is likely to be accomplished," he said,
Gonsalves said the Plan speaks to the principal areas for attracting investment and assistance in the development of the domestic private sector — working with the co-operative sector and the State.
"I want the point to be clear. This is not the Soviet Union, nor indeed East Germany or Cuba — particularly Cuba in a more pristine centrally-planed economic phase," Gonsalves said.
"This is a Plan, which has to take account of the realities of our own economic structures and systems. So if you expect detailed predictions or plans for what different sections of the private sector would be doing, you are not going to get that here. What we are doing is to set the frame and the broad polices which would be required to have the optimal development."
Gonsalves further said the Plan is "not cast in concrete.
"You provide a framework, you give it focus but it has a sufficient flexibility, which permits amendments, alterations…
"This, you would expect, is how practical people conduct their affairs in relation to basic criteria of efficiency, fairness, sustainability and appropriateness," he said.
He also said that the Plan is not perfect, and added that he himself, if he were to assess it critically, would have "a series of critical comments about it".
"And it would be strange if the very drafters of the Plan do not have critical comments about this or that issue. It is not that what is here is not a proper and appropriate and sensible frame for socio-economic advancement. It is that areas of emphases may shift, and the formulation you may have, in six months time may well be different. It is not that it is elastic. It is focused but flexible. It cannot be rigid," Gonsalves said.
Also addressing the launching ceremony were Director of Planning, Laura Anthony-Browne; Wayne Mitchell, the International Monetary Fund Resident Representative for Eastern Caribbean Currency Union countries; Sir K. Dwight Venner, governor of the Eastern Caribbean Central Bank; and consultant Claremont Kirton.