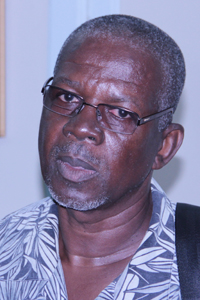 The opposition New Democratic Party says that it disagrees with the view that it has announced too soon its full slate of candidates for the next general elections, constitutionally due in 2015.
"I believe the longer you are on the ground, the more time you have to understand people and do your work," general-secretary of the NDP, Allan Cruickshank told I-Witness News.
"The government, even though they have not declared [their candidates], they have 15 people working all the time. And even if you have to shadow them, you have to show some intent and some purpose very early.
"… I think the more you see your people as candidates, you can learn a lot," Cruickshank further told I-Witness News.
He, however, said that while a person has been declared a candidate for the next general elections, that decision can be rescinded.
"… as a central member of the screening committee, I continue to screen you even though you are candidate."
Asked if it would not be poor public relations if a candidate is removed, Cruickshank said, "I am not going to the point of removal.
"The point is, if you are not performing as expected, you have to be warned, it is brought to your attention, and you get a lot of time to see all these things, to see how people operate.
"I don't know if it would be poor public relations if you have to be removed for good reasons. I don't expect anybody to be removed and you must perform as if you are serious."
He said that the "main philosophy is that candidates must be on the ground.
"If you are not on the ground as we expect — there are certain guidelines — then you will be warned and so on, and we monitor you, so to speak.
"I don't believe and I don't expect we will have to reach the stage to remove anybody. But, you will be given some time to prove yourself and to work accordingly and we expect you to do that, in conjunction with the constituency."
Ahead of the 2010 general elections, the NDP recalled former nurse, Margaret London as its candidate for North Central Windward, because of a run-in she had with the law two decades ago.
The NDP's full slate of candidates reads:
North Leeward: Roland Matthews, MP
Central Leeward: Ben Exeter
South Leeward: Nigel Stephenson, MP
West Kingstown: Daniel Cummings, MP
Central Kingstown: St. Clair Leacock, MP
East Kingstown: Arnhim Eustace, MP (Opposition Leader)
West St. George: Dr. Julian Ferdinand
East St. George: Dr. Linton Lewis (Senator)
Marriaqua: Curtis Bowman
South Windward: Noel Dickson
South Central Windward: Addison Thomas
North Central Windward: Kenroy Johnson
North Windward: Lauron Baptiste
Northern Grenadines: Dr. Godwin Friday, MP
Southern Grenadines: Dr. Terrance Ollivierre, MP