Today, Wednesday, Dec. 18, the first Ember Day in the season of Advent, Hanif H.R. Johnson and Alison M. Samuel will be ordained as Deacons at the St. George's Cathedral in Kingstown at 5 p.m.
Johnson was born and grew up in Greggs Village. He was the 1992 Valedictorian of the Emmanuel High School, Mesopotamia and subsequently graduated with Second Class honours in Associate of Science Degree from the University of the West Indies Open Campus, SVG. He is a Constable of the RSVGPF, and has worked in several departments and credits the organizations for instilling in him discipline and obedience.
Johnson describes himself as a "farmer".
"I enjoy farming; I rear cattle and grow crops," he said.
He sees life as a gift from God –living in obedience and being of service to God.
"Being a priest is full of challenges. My hope is in the Lord who brought me through all my difficulties," he said. "I have learnt that we are frail human beings who need the Almighty, for He is our strength."
Hanif hopes to enter full time ministry of the Church.
Samuel has lived in Paul's Avenue Kingstown for more than 37 years, and, as a Justice of the Peace, she has gained the respect and confidence of her community.
She is a graduate of the St. Vincent Girls High School and pursued her tertiary education at the Barbados Community College, the University of the West Indies, and Wolverhampton, England and at the Institute of Chartered Secretaries and Administrators in the United Kingdom. She is retired civil servant, who served the government and people for 37 years and several senior level positions within the Service. Her last post was that of Registrar, International Business Companies at the International Financial Services Authority.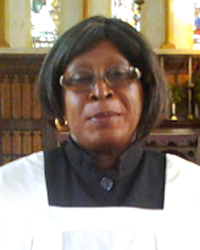 She is a member of the Cathedral choir and the Anglican Church Women Association (ACWA). Alison, a licensed Eucharist Minister, says, "My life as an Anglican is fulfilling and rewardingand I consider now the opportune time for me to continue my Christian duty within the non- stipendiary ministry."
Samuel will serve as a Non- Stipendiary Deacon.
Upon their ordination today, Johnson will return to Codrington College to complete his studies, while Samuel will serve throughout the archdeaconry of St. Vincent and the Grenadines.
The ordination rite specifies a Deacon is called to serve the Church of God and work with its members in caring for the poor, the needy, the sick and all who are in trouble.
The newly ordained deacons will also assist the bishop and priests in public worship and in the administration of God's word and sacraments, and in carrying out other duties assigned to them from time to time.
The Ordination will be administered by Bishop of the Windward Islands, His Lordship The Right Reverend C. Leopold Friday.