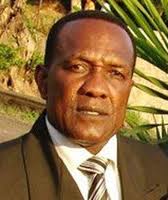 Recalled diplomat, Edson Augustus still holds a valid diplomatic U.S. visa and is not in the Caribbean, a source in the U.S. State Department has told I-Witness News.
The Ralph Gonsalves government withdrew Augustus's diplomatic passport when he was recalled last week Thursday, Feb. 6.
The Ministry of Foreign Affairs said on Monday that it recalled Augustus, Deputy Consul General at the SVG consulate in New York, because of his involvement in "activities outside the scope of his employment and inimical to the interest of the Consulate General and the Government and people of St. Vincent and the Grenadines".
Augustus is yet to report to the Ministry of Foreign Affairs in Kingstown and the government, on Tuesday, ordered that his salary be discontinued, Prime Minister Ralph Gonsalves told I-Witness News on Thursday.
However, the State Department source told I-Witness News on Friday that Augustus still has a full diplomatic visa and the Government of St. Vincent and the Grenadines is yet to take steps to have it revoked.
The source said they were not able to confirm Augustus's travel plans, but said that he is not in the Caribbean, and all indications are that he was still in the United States.
The source did not comment about whether U.S. authorities were investigating Augustus for his alleged involvement in a Green Card scam, or for any other activities.