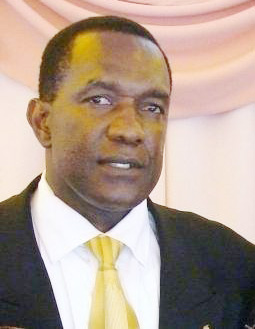 A Vincentian living in New York says she gave US$7,000 to Deputy Consul General, Edson Augustus, last March after he promised to help her to obtain a U.S. Permanent Resident Card, commonly called a "Green Card".
"I went to renew my passport and I mentioned that I couldn't travel to a friend, and he (Augustus) asked me why. I told him my status and he said he helped a few people but it's to be kept quiet," the woman, who requested anonymity because of her immigration status in the United States, told I-Witness News recently.
The woman, who has been living in the United States for almost a decade, said Augustus returned her money seven months later – last October — after she threatened to seek legal advice.
"I give him the impression that am gonna see a lawyer, so I got it in two weeks," she said.
The Ministry of Foreign Affairs in Kingstown recalled Augustus on Feb. 6 but as of Thursday, Feb. 13, he had not reported to the ministry, Prime Minister Ralph Gonsalves said. The Prime Minister, who is also Minister of Finance, said he has given an order for Augustus' salary to be discontinued.
In a statement Feb. 10, the foreign ministry said it had recalled Augustus after it received "sufficient confirmation" of reports that he was "involved in activities outside the scope of his employment and inimical to the interest of the Consulate General and the Government and people of St. Vincent and the Grenadines".
A well-placed source has told I-Witness News that the government of SVG is looking into Augustus' alleged involvement in efforts to help persons to secure Green Cards.
I-Witness News understands that whether or not Augustus was paid for his alleged efforts, the act of assisting persons to secure Green Cards remained outside of the terms of his employment.
The woman in New York who contacted I-Witness News said that at first she believed that Augustus could have helped her to obtain a Green Card.
"I grilled him a lot but he said he and the supervisor are friends, they met at a diplomatic dinner function, and she (the supervisor) offered to help his family and she did," the woman told I Witness News, recounting some of the conversations she said she had had with the diplomat.
"I told him I'm not interested in any fake card and he said it's real," the woman said. "He claimed that the only thing he is doing is giving the lady the application and she would approve it and it has to go further but I will be getting a response in the mail from immigration itself, and not him.
"So he basically was only helping to eliminate the interview process, which is the first step. Then he said the lady give him a list of names to send for the medical and we hand the medical to him and he passed it along to her," the woman further told I-Witness News.
She said, however, that she became suspicious when she and her fiancé visited Augustus' apartment to pay the US$7,000 he had asked for and to fill in the application form.
"… he had downloaded the forms already. … But because he couldn't tell me what I'm applying as, that's when I had my first doubt," the woman said.
She said Augustus then telephoned a woman with a "Trinidadian accent", who informed them that the space was to be left blank.
The woman said she took along her fiancé because he had doubts about the process and they wanted to know where Augustus lived, "just in case".
"… he (Augustus) never gave receipts but what I did was I texted him and mentioned it in the text just in case," the woman said, adding that Augustus responded to her text.
"I correspond with him via text because I needed proof just in case he was a fraud," she said.
She further said that while the text messages have since been deleted from her cellphone, she would attempt to retrieve the messages from the telephone company, if necessary.
The woman told I-Witness News that whenever she questioned Augustus about the Green Card, he would telephone the woman with the Trinidadian accent.
The Vincentian woman said that over time Augustus became agitated whenever she asked him about the application.
"I kept researching after I found he was lying and when I questioned him he got upset and said I was asking too much questions. That's when I demanded my money back," she told I-Witness News.
She further said that she doubts the former diplomat was able to help anyone to secure a Green Card.
" I doubt that he had that link. … He didn't even know the correct information about how it worked," she said.
She said she contacted I-Witness News with her story because, she "just thought someone should know the real truth instead of the usual cover-up".
Augustus, a former Seventh Day Adventists pastor, resigned from the clergy in February 2011, three months before be was appointed as a diplomat.