Having waited 19 years for his first calypso crown — which came on Saturday – calypsonian I-Come says he is now focused on winning the national Calypso Monarch title, but will be satisfied with a position among the top three.
The artiste, whose real name is Vivian Miller, won the calypso segment of the Best New Song Competition during the launch of Vincy Mas 2014 in Kingstown on Saturday.
And with the confidence booster, he said he is holding his next song in his pocket, should he advance to the finals of the National Calypso Monarch competition, which forms part of Dimanche Gras on July 6.
His song, "Body Parts", addressed what he portrayed as an amputation epidemic in St. Vincent and the Grenadines.
"Why they cutting, cutting?" he sang and mentioned in his song calypsonian Alexi "Lexie" Joseph, who competed for the first time since having one leg amputated two years ago.
After his crowning, I-Come told I-Witness News he felt "like a hero", having won his first crown since he began singing in 1995.
"When I look around and I see the amount of amputations in my country, the lyrics them just come like water," he said of the inspiration for the song.
"So much amputations in my country, man. In some cases, some people can just get treatment and get their two foot, they just keep cutting them like they crazy, man," he further told I-Witness News.
"I am feeling proud. I am a king tonight. I am hoping to be in the big three at least with this song," he said in reference to the National Calypso Monarch finals
"That is one in the pocket," he told I-Witness News when asked about his second song.
"I can't expose that one, but later on you will hear. The people will hear that one later on. I have to keep that one in the pocket right now," said the artiste, who will be singing with Upstate Xperience Calypso Tent.
Noel "Defoe" Castello and Glenroy Sulle Caesar tied for second place in the competition, singing "Thanks" and "Facts of Life", respectively.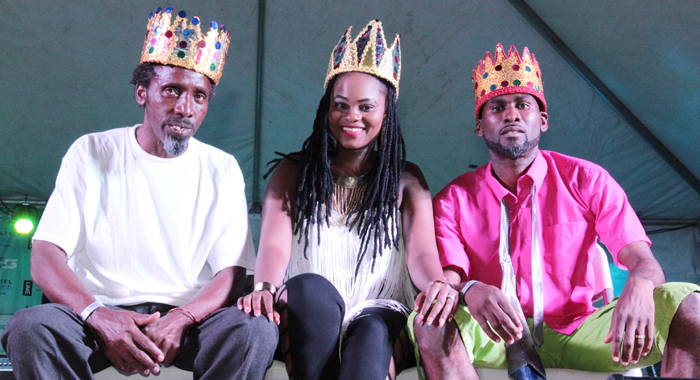 Meanwhile, Orlando "Syxx Krazi" Foster also won his first crown when he defeated the four other contenders in the Soca category of the Best New Song competition.
Cleo "Cleo Patra" Hendrickson was second, while Tamisha Nicholls placed third.
But it was Tamisha who copped the title in the Ragga Soca segment of the competition.
She won ahead of Travis "Wiz Skid" Lynch, who was second, and third place winner Aurella "Queen B" Beache.