After about four hours of fishing seven miles at sea on Monday, Andrew Gould, captain of Chances II, was feeling confident.
"I said let us go home, because I know we (crew) done win the engine already," he told I-Witness News at Calliaqua on Monday the end of the Fisherman's Day celebrations.
And Gould was right. The 236 heads of fish that he caught, while the second largest number of heads, was the heaviest catch — 998 pounds –and won him the Fisherman of the Year 2014 title, the second time since 2007, that he was winning the competition.
As part of his winnings, Gould received the coveted 75 horsepower Yamaha outboard engine and a trophy from the Fisherman's Day Committee.
The Rose Place-based fisherman, who is originally from Belmont, also received a trophy from former Parliamentary Representative for West Kingstown, Rene Baptiste.
His prizes also include one anchor, three life jackets, and one case of outboard engine oil.
For landing the second largest number of fish, Gould received EC$150 among other prices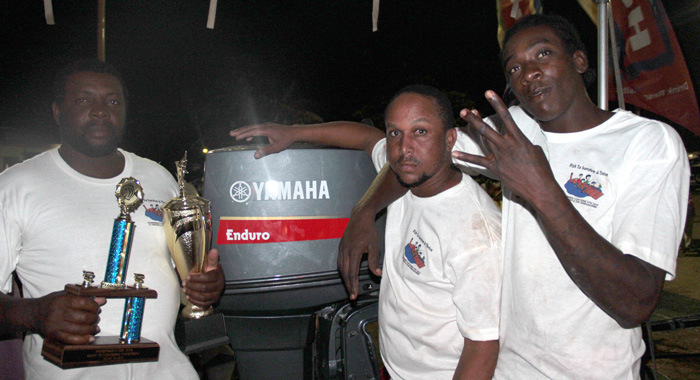 "I feel good about winning Fisherman of the Year this year but I win it already," he told I-Witness News shortly after the announcement.
And while he could not recall when he first won the competition, Gould recounted that back then, he had landed 1,200 pounds of fish.
The 43-year-old father of four said fishing is his only source of income.
He also praised the hard work of his crew. "My crew, they are all successful and they like to work. And when I met the fish, I told them to work because we are winning the competition today."
Asked what he will do with his winning, Gould said he will pay his workmen, "Then, after that, everything else goes to the owner, which is me."