Laughter rings out of Cornetta Jordan's brand new home in Fitz Hughes on the northwestern tip of St. Vincent, as she jokes with her neighbours.
From the house next door, which is also brand new, there is the sound of a power saw cutting wood, and hammering. It is the home of Latcian McKie, her boyfriend and two son, ages 1 and 3. Similar sounds are heard coming from a third house nearby.
The three houses, like the other seven around them, are brand new, built by the Unity Labour Party government and given to victims of the December 2013 disaster.
Six months after a low-level trough devastated part of St. Vincent on Christmas Eve, there are many signs of progress, although some persons, including 100 still in emergency shelters, are yet to see much change in their circumstances.
"Life has been a major challenge, but we have made enormous progress on several fronts," Prime Minister Dr. Ralph Gonsalves told I-Witness News.
The weather system produced 300 millimetres of rain in five hours in some areas of St. Vincent, triggering flash floods and landslides that claimed nine lives. A further three persons are still missing, and presumed dead.
There was also extensive damage to public infrastructure, including roads and bridges.
The value of the loss and damage was estimated to be EC$330 million, or 17 per cent of the gross domestic product.
The government says that by the end of July, it will have distributed about 100 houses to persons affected by the severe weather, and ultimately, about 150 houses will have to be built.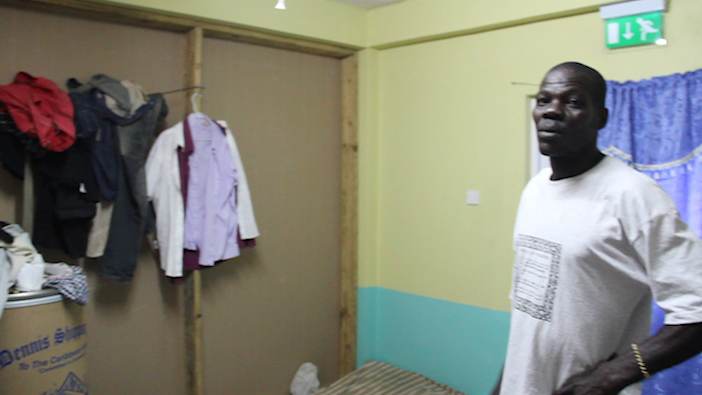 Among the persons still in emergency shelters are 19 persons, mostly from Buccament Bay, who have been living in the Rillan Hill Community Centre for the past five months.
The oldest is age 73, and the "residents" include three babies born to women living at the shelter.
Conrad Jack, 51, who share a room with his father at the community centre — where relatives/households each have a separate living space — said the conditions there "ain't too bad".
But his sleep is often interrupted by memories of that fateful night, when he last saw his girlfriend, 34-year-old Shirla Edwards, who is among the missing.
"All I do is study my girlfriend, especially how I [have not recovered] her body," Jack told I-Witness News.
"Sometimes, when I am inside sleeping, I feel as if somebody is riding me. I jump out of my bed and sit down for a period of time and tears just come out of my eyes," he said.
Jack and his girlfriend were washed away when their wooden house disintegrated in the rising floodwater. He was rescued by villagers, who hauled him over barbed wire, which resulted in significant injuries to his legs, which have since healed.
Jack's sister, Hazel-Ann, who also lives at the centre, is also healed of her physical wounds, but still grabble with emotional pain.
The last thing Hazel-Ann said to her 12-year-old daughter, Inka Jack, was "No Inka; don't say that", when Inka asked if they would die in the floodwaters.
The 12-year-old girl is among the missing, the third being Joselle Small, who, like the other two missing persons, were washed away in Buccament Bay.
"I try not to study it, but you know, I can't forget. I try to cope with it," Hazel-Ann told I-Witness News.
She says she is not comfortable living at the emergency shelter, where a cook has been assigned by the government to prepare meals.
"Like how I am accustomed to live by myself and cooking for myself and everything, I don't feel comfortable how someone has to do it for me," says Hazel-Ann whose boyfriend, and son, who this year wrote Caribbean Examination Council secondary school examinations, also live at the centre.
The emergency shelter is managed by police officer, Constable Steaven Derby. He told I-Witness News that while the "persons generally are comfortable", they also have their concerns.
"They are wondering how soon they are going to be able to move back to their normal lives," Derby said.
The Jacks say that the government has informed them that lands have been identified for the construction of houses for residents of the emergency shelter, and that work should begin in July.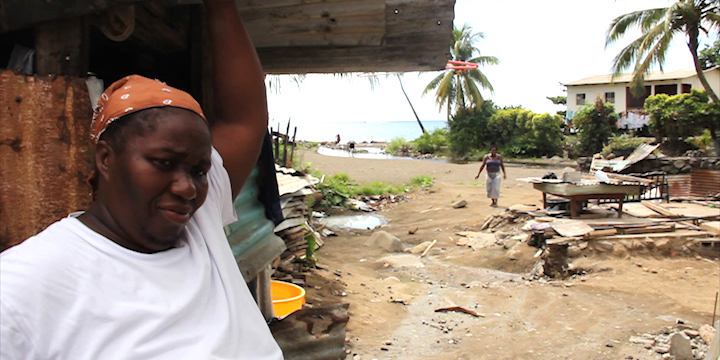 However, back in the northwestern village of Fitz Hughes, Florestine Spring and her family, whose house was washed away by floodwaters, are yet to receive word on how or when their situation will be resolved.
The 39-year-old unemployed woman said her family was the first to seek emergency shelter on Christmas Eve night as the river destroyed their two-bedroom wooden house.
Spring and her four children, including a secondary school student, have been for the past four months living in a building that was used as a village shop.
She complains about not having received any assistance although officials of the National Emergency Management Organisation know about her situation.
"I need back a house. Me nah ha' no light (electricity) there; no water. Me have to come down here (at my mother's house) and get water and buy candle ah shop," she told I-Witness News.
But Prime Minister Gonsalves, while not speaking of Spring's situation specifically, told I-Witness News, there is "the odd persons here or there whom the assessors would have missed, for one reason or the other".
He said that all victims of the disaster will receive assistance. Back at the three new houses in Fitz Hughes where storm victims are moving in, 23-year-old Latcian McKie explains that the hammering is her boyfriend building cupboard in the house, which is build of wood on a concrete foundation.
The government says that the two-bedroom houses being built are worth EC$70,000 each and are being built on land valued between EC$12,000 and EC$20,000.
And McKie is very happy to have received hers.
"We are living between two rivers now," she said of her previous home, where the Fitz Hughes River has created a tributary that encircles her house.
McKie's neighbour, 42-year-old Cornetta Jordan, is equally happy.
"I am feeling very good, very proud of it," Jordan said of the two-bedroom house that is now home for her and five of her children.
"I am just helping him to settle in," Dr. Francis Murray tells I-Witness News of the work he is doing at the house of his deaf friend, 48-year-old Matthias John, who is Murray's gardener.
Murray helped to build a counter at John's house and also provided him with a couch and a television.
John's house was washed away during the Christmas Eve disaster, and, like his two neighbours, had been living in the learning resource centre for the past six months.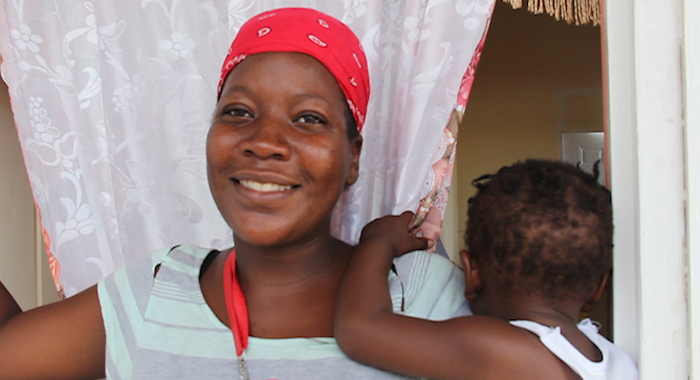 In addition to building houses, the government has cleaned rivers "to make sure that we don't have the kind of damage that we had in December," Prime Minister Gonsalves told I-Witness News.
The government was criticised for not having cleaned the rivers after Hurricane Tomas in October 2010, and some citizens have said that this contributed to the scale of the impact of the December trough system.
"It is important for us to realize that full-fledged projects have to be evolved for the river defences, but this is immediate ameliorative work," Gonsalves says of the river work done since December, including placing large boulders against the banks of rivers.
"We are on the verge of beginning the construction of bridges," he further said, noting that temporary pedestrian bridges were built in areas where fallen bridges had separated communities.
In the agricultural sector, work has been done by the United Nations Food and Agriculture Organisation, and the government had distributed livestock, seeds, and fertilizer to farmers.
"The area where we have not done as much work as we would like to have done is the area of reforestation. That is a longer term exercise, though I still believe some of it could have been done," Gonsalves, however, says, adding, "It is a very challenging area."
In January, one month after the disaster, the government, through telecommunications provider Digicel, donated fridges, stoves and mattresses to persons who lost these items during the storm.
"People are shock that we will be able in the six-month period to deliver 100 houses, giving out material of maybe a million and a half dollars so far and to repair houses on the spot which were damaged," Gonsalves told I-Witness News.
The recovery has been financed using monies from an EC$20 million Petrocaribe loan for the housing repair, US$4 million from the Mustique Company, representing four year's dues in advance, and donations from various entities, including countries.
"We are using all of these resource, plus, naturally, tax dollars to help with the entire reconstruction exercise," Gonsalves told I-Witness News.