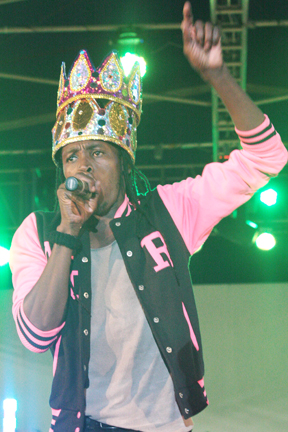 Gamal "Skinny Fabulous" Doyle was welcomed by loud boos even before he appeared on stage at the Soca Monarch competition Saturday night.
And before his performance was over, the artiste climbed down from royalty and responded to an encroaching Shertz "Problem Child" James, who earlier made it plain that singing, rather than props, would win the competition.
As Skinny's presentation moved to a climax, the artiste, who had used a jetpack and a helicopter to help him win Soca Monarch crowns in the past, moved even closer to the gentry, saying he could not deny feeling the "winds of change".
But, in a last show of magnanimity, the 135-pound artiste, who was wearing only an adult diaper and a pair of white socks, hailed his fans and paid homage to supporters of his soca arch-rival, Delroy "Fireman" Hooper.
(Scroll for links to photos)
And for those who still had any doubts, they were convinced once and for all that Skinny's pressing of the "Red Botton", was not enough to control the "Unruly" Fireman.
The results, when they came more than an hour later, made it official and confirmed that Skinny had in fact outperformed "Problem Child", who had to settle for third place, one stratum down from Skinny.
Lancelot "Madskull" Gloster-Scott placed fourth.
"I wish him (Skinny) all the best and I hope his agony of defeat, he can face it; because there are times when you have to face that," Fireman said in a post-show interview, during which he spoke of their mutual respect for each other, notwithstanding the musical rivalry.
In defeating Skinny, Fireman foiled his attempt to win a third consecutive Soca Monarch.
But Fireman won his eighth Soca Monarch title and the 10th crown since he began singing 15 years ago. (He did not compete two times during that 15 years)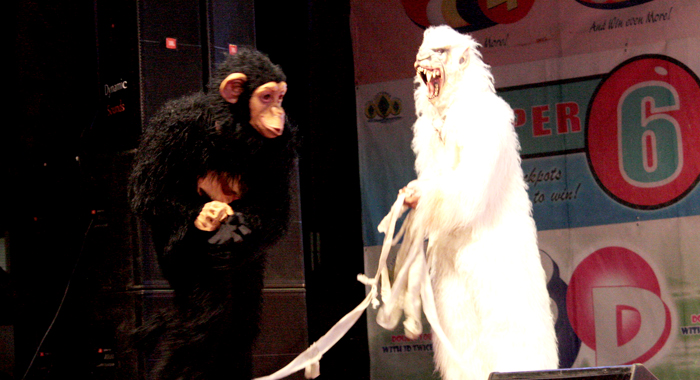 During Saturday's show, Fireman also won the Ragga Soca crown, becoming the first artiste to win both crowns in one year.
"It is always good to win, but you have to put in a lot of work," Fireman said after the crowning.
"Music keeps me focused and because I am focused, I know what's happening to me and all my fans; I know what's happening to the people who play music," he said.
"Music is not about hate it is about love. It is about bringing people together, and music has been divided in St. Vincent, through radio stations, through DJs and so on, and I am not a part of that," he further said.
That division was explicitly clear Saturday night as evidenced by the crowd's surprising response to Skinny.
Skinny must have known that he was pushing the envelope when he began his presentation of "Made For This" ("Red Button") with a video presentation, filmed at the Mental Health Centre, that seemed to be making light of mental illness and the ability of mentally ill persons to be in love.
In addition to all of this the on-stage dramatization before the song was of a woman giving birth to Skinny, who appeared, between her legs, from under a gurney — dressed in an adult diaper and white socks.
Red Button may have long lost its appeal through overplay, as some soca lovers say that he released it too early.
The song begins with the artiste saying "Red Button! Red Button!" And with elections constitutionally due in 18 months, some persons associated "Red Button!" with the ruling Unity Labour Party, whose colour is red.
Skinny has also sung songs endorsing the party.
Some supporters of the party have used the song, in their advocacy, and Prime Minister Ralph Gonsavles, who is also leader of the ULP, has referred to "red button" in some of his recent speeches, while editorial cartoonist have used it to jab the government.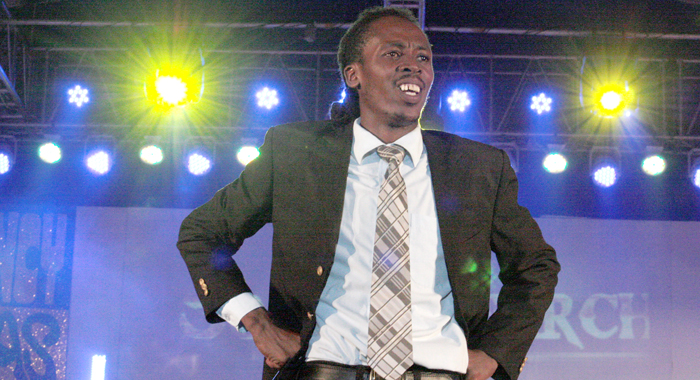 On the other hands, Fireman was coming into the competition having taken a year off in 2012 — when he did not defend his crown — and a defeat in 2013.
"Last year, I was second. I go home and do my research and come back," Fireman told reporters.
"What I have done this year is to take back the music to show the young people that a song like "I want Soca" [by Alston "Becket" Cyrus], and I did "I am the soca man," and I did "Rum Meeting" [can win]," Fireman said of two of his song this year. ("Rum Meeting" won him the Ragga Soca crown.)
"So, if you notice, there is a different flavour," Fireman said, adding that he is trying to show versatility.
"Everybody has this kind of dub-rock type of soca and techno-disco thing, and that's not soca. So while that is what is happening now with the young people, I wanted to bring back the older people to the park."
This year's competition was devoid of many of the high-tech theatrics of previous years.
Asked if artistes had realised that they don't need such theatrics to win, Fireman said, "I teach them how.
"I have been doing the simple things for years and winning. I can still do simple things and win. Even the great Machel Montano saying he is spending two million [dollars] to win one.  Why should I spend EC$22,000 to win $20,000, if that's the case?" Fireman said.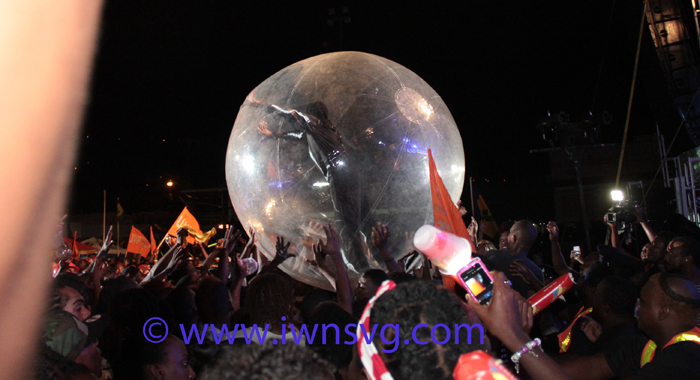 Fireman's act included an inflatable balloon with him inside, that seemed to have taken too long to inflate, and did not go very far beyond the rail that creates a buffer area between the stage and the audience.
He said the balloon is inflated from the outside and at times he had to adjust his stance to get it right. Fireman added that while he used the balloon at the Wet Fete, he wasn't working with time then.
"I couldn't take it out into the crowd. If I get it out into the crowd, I could get hurt, and that's very risky," Fireman of the performance on Saturday.
And, even before he recaptured the crown, Fireman was already working on music for 2015.
"One week ago, I was doing music for next year, and I have music in the studio. If you notice, I don't do a lot of music during Carnival — release 10 and 11 songs, because the market is not there.
"So I release two or three songs, and I think that is enough for me. Because the number of songs that are out, I need my songs to get play. And if I have eight, nine songs, I come here not knowing what to sing," he said.
Links to photos: