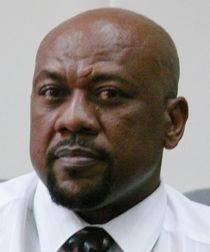 Prime Minister Ralph Gonsalves on Monday sought to assure Vincentians that the police are vigorously pursuing the bandits who abducted and robbed business executive Jimmie Forde Saturday night.
"I want to assure everybody that we have a lot of officers on this case and we are pursing vigorously the persons who are responsible for this crime," Gonsalves, who is also Minister of National Security, told a press conference.
"This kind of copycat activity out of neighbouring countries, for instance Trinidad, is not going to take root here, and we are taking a tough line on this, as we do on all crimes," he said.
"I just want to state that and to give the assurance to the public," he further said.
(Read earlier story:  Abductors take executive's gun and cash; leave him naked)  
Armed, masked bandits abducted Forde, a business executive at Coreas Hazells Inc., along North River Road sometime after 2 a.m. Sunday, after he left an entertainment event at Victoria Park.
I-Witness News understands the abductors placed the 51-year-old man in the trunk of his car and took him to Sion Hill Bay, where they robbed him of his possessions, including his clothes, and his licenced firearm.
A well-placed source told I-Witness News on Sunday that the robbers also took Forde's bankcard and demanded the personal identification number and threatened to kill him if he refused.
The criminals also took his vehicle, which was recovered in upper Montrose on Monday.
Gonsalves, who returned to St. Vincent from Ecuador on Sunday, said he found out about the crime when he arrived in Trinidad about 1:30 p.m. Sunday.
He said he has since spoken to Forde — who is also chair of the board of directors of the Postal Corporation — and is pleased to know that physically he was okay.
Gonsalves said that Forde told him that the police responded quickly and were on the road looking for him after the abduction.
I-Witness News understands that while Forde was in the trunk of the car, he was able to text a relative, telling them that he had been abducted.
The Prime Minister said he would not go into the details of their conversation, adding that he is always sensitive about speaking about matters that come to him, which are under investigation.
Gonsalves further told the press conference that he has had several conversations with acting Commissioner of Police Frankie Joseph and head of Criminal Investigations Department, Assistant Superintendent of Police Sydney James Sunday night and Monday morning.
He further said he has discussed the development with Permanent Secretary in the Ministry of   National Security and Security Consultant in the Ministry of National Security, Sir Vincent Beache.