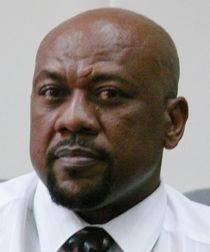 Jimmie Forde, the business executive who was abducted in Kingstown Saturday night, was on Sunday evening at home "safe and sound, resting with family", one of his close relatives told I-Witness News.
Forde, a manager at Coreas Hazells Inc., was abducted along North River Road near the Catholic Church around 2 a.m. Sunday, after leaving Victoria Park, where he attended an entertainment event.
A well-placed source, who asked not to be identified, told I-Witness News that two males armed with at least one gun, approached Forde after he entered his car.
The source said the men asked Forde if he was a police officer or a manager at Coreas Hazells Inc.
The abductors placed the 51-year-old resident of Gomea in the trunk of his vehicle and drove in the direction of Block 2000.
The source told I-Witness News that Forde was driven around for about 30 minutes and after a while he became disoriented.
The two abductors later picked up a third male.
The source said that while in the trunk of his car, Forde was able to use his cellphone to send a text message to a relative, informing them that he was abducted.
The three abductors then took Forde to Sion Hill Bay, tied him up, and took some $800 in cash, bankcards, his clothes, and his licensed firearm.
The criminals placed Forde to kneel and asked him if he had any children. One of the abductors punched Forde in the left eye and threatened to kill him.
I-Witness News was reliably informed that the abductors demanded the personal identification number (PIN) for Forde's bankcard and threatened to kill them, if he gave them an incorrect one.
Two of them went to the bank, presumably to withdraw money from the account, while the third remained with Forde, I-Witness News was told.
The adductors tied Forde's hands, and tied a jersey around his face before leaving him in the Sion Hill Bay area.
Sometime around 5 a.m. Sunday, a resident of Cane Garden heard Forde calling outside their house, and saying he had been abducted and robbed and asking for help, the source told I-Witness News.
I-Witness News was told that Forde was wearing a jersey that his abducted had tied around his face in an apparent attempt to cause him to suffocate, and a bath towel that he had in the back of his car, which he wrapped around himself.
He reportedly almost fell unconscious while trying to free himself after his abductors had left.
"I think he is lucky he didn't have a bad heart," the source told I-Witness News, adding that it had been suggested that therapy be sought for the executive to help him get over the ordeal.
"He will definitely need it," the source said.
Initial reports indicated that Forde's vehicle was missing.
I-Witness News was unable to verify late Sunday night whether it had been recovered.