Leader of the Opposition Arnhim Eustace is questioning the validity of some marriages over which former Registrar of the High Court, Tamara Gibson-Marks reportedly officiated.
Attorney General Judith Jones-Morgan asked Gibson-Marks to resign on May 21, and has since applied for her to be disbarred from practising law in St. Vincent and the Grenadines.
That application will be heard in early September, Prime Minister Ralph Gonsalves, who is also Minister of Legal Affairs, told a press conference on Monday.
I-Witness News understands that some EC$300,000 from an account that Gibson-Marks held in trust is unaccounted for.
Eustace wrote to Gonsalves last month asking questions about financial transactions that the Registrar may have conducted and other matters relating to the issuing of Vincentian passports.
Gonsalves in his response told Eustace that he and the nation should await the outcome of the on-going investigation and court proceeding.
But Eustace said in Langley Park Tuesday night, at the beginning of his New Democratic Party's "Ring De Bell Island Tour", that he has pictures showing Gibson-Marks conducting weddings outside of her office, contrary to the law.
"I have some pictures, … of the registrar conducting marriages at a certain place here… And where I get those pictures from, I know that they are real.
"… And they are not in black and white at all, they are in bright colours; very beautiful photographs. The law book is there in the hands of the Registrar and the bride and groom are in front of her. Well, that is not a funeral. That is a wedding," Eustace said.
He said that under the marriage law, normally, the Registrar should conduct marriages in the Registry.
"That is what the law provides for," Eustace said, adding that the validity of weddings otherwise conducted by the Registrar can be questioned.
"There is another section under the law where somebody might challenge. And the question is, if you challenge one of those weddings that were done outside of the Registry, can the marriage remain valid?"
But Eustace said that more importantly, he would like to find out what fees were collected for the conduct of those weddings.
"More importantly, I would want to find out whether the Registrar collected any fees for the Accountant General. That is, for the government, and whether she collected any other fees; because the fees have to go to the Accountant General," he said.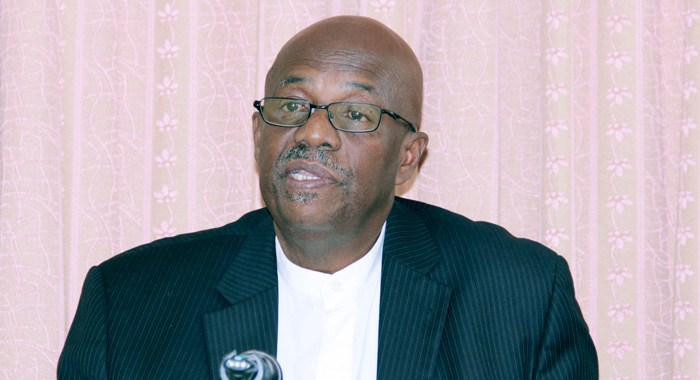 No more letters
"That's another question I have, but I ain't going send Ralph no letter. I going find out that one for myself," Eustace said.
"And when I find it out, because I have some information already, I will give it to the people of this country and tell them exactly what has been happening.
"I done with the letter business; done with that. You see, you can't cover up corruption and so on indefinitely.
"Either something will go wrong with you or somebody who knows about it will get fed up and talk."
Eustace on June 23 wrote a two-page letter to Gonsalves, asking seven questions relating to the resignation of the Registrar.
Gonsalves gave a 26-page response one week later.
"Twenty-six pages and he ain't answer any of the questions I asked," Eustace said, adding that in the letter, Gonsalves talked  "all kind of stupidness about things long past and things that are not true.
"I am not going to respond to him. He don't deserve a reply," Eustace said.
UPDATE: A lawyer told I-Witness News on Wednesday that one section of the laws of SVG says that the Registrar  may not act as a marriage officer outside of her office, but an amendment in 2008 said that the Registrar may do so, if they consider that place a suitable one. The lawyer further said that is a legal argument for the courts to clarify.