Elwardo Gideon "E.G." Lynch, political activist and former radio talk show host for the opposition New Democratic Party (NDP) was buried in Georgetown on Saturday after a funeral service that reflected elements of the divisive nature of his political activism.
While Leader of the Opposition and President of the NDP Arnhim Eustace, along with NDP founder, former prime minister Sir James Mitchell were warmly welcomed at the funeral, Prime Minister Ralph Gonsalves was booed as he entered, and later as he was called upon to pay an honorary tribute to his one-time political ally who later became a political rival.
Eustace and Mitchell delivered honorary tributes at the funeral.
The loud protest against Gonsalves included the ringing of at least one bell and continued for several minutes.
In his tribute, Eustace said Lynch was well loved by thousands in SVG and overseas.
"He loved being host of the New Times programme and he was a natural for that type of programme. Natural because he was an excellent communicator," Eustace said of Lynch.
"He touched and moved the emotions and affected the thought patterns of thousands of our people, including many from neighbouring islands, and in the Vincentian diaspora, wherever they are.
"He really, you know, did love people and was adored by people," Eustace said.
(See photos of Lynch's funeral)
He said Lynch persevered "without fear or favour", despite efforts to silence him through the courts and other ways.
His statement was an apparent reference to the lawsuits that Gonsalves filed against Lynch and NICE Radio — on which New Times is broadcast.
The lawsuit against Lynch resulted in the station paying Gonsalves EC$206,000 for defamation.
Eustace said despite Lynch's natural ability, he possessed an admirable work ethic and a very quick mind.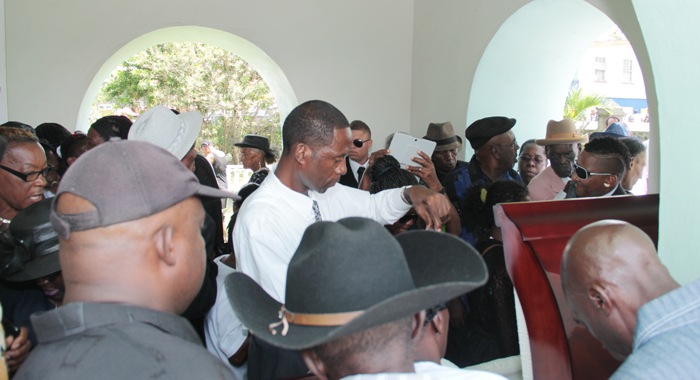 "He controlled the airwaves for three hours a day, five days a week, and his performance contributed immensely to NICE Radio being ranked as the number 2 station in St. Vincent and the Grenadines," Eustace said, adding that NICE Radio ranked number one during the time when the programme is aired.
Eustace, however, said that Lynch success was not simply due to his natural talent but also to hard work and dedication, adding that Lynch researched daily for his programme.
"He did not guess; he prepared, and he was always on time. I particularly admire that hard work and that dedication," Eustace said.
He credited New Times for the NDP's improved performance in the last general elections.
"The New Times programme was a major contributor to NDP's improved performance at the polls in recent years. Indeed, Lynch came onto the air when NDP was at its lowest ebb. And after the 2001 elections, he made his contribution and the NDP vote in 2010 resulted in a mere one-seat majority for the government.
"I attribute a lot of that to Elwardo Lynch, Eustace said, adding that Lynch was "a very skilful an popular chairman" at many NDP events.
"His vibrancy shone through and invigorated the crowd and speakers alike. His analyses and phrasing made even the most esoteric observation understandable to all. He was an unmatched propagandist," Eustace said.
"Our party owes E.G. Lynch a great debt of gratitude," Eustace further said.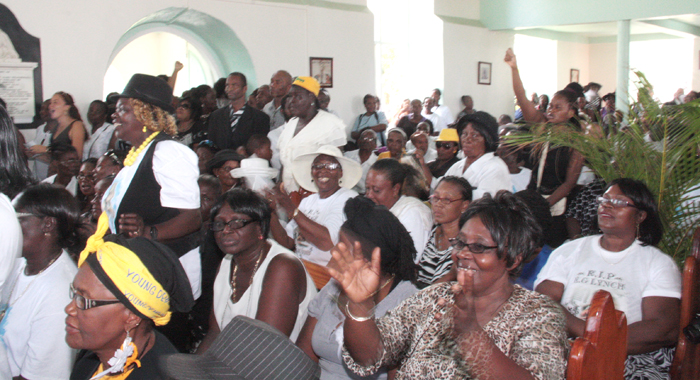 NDP founder and former prime minister, Sir James Mitchell, in his tribute, referred to Lynch as "the man from Basin Hole", a reference to Lynch's childhood home in Georgetown, of which he spoke frequently on radio.
He said Lynch was never ashamed of his humble beginnings, "and he saw it as a challenge.
"And I respected him for that, because I too had my comments about the Bequia fisherman," Sir James said.
"E.G. Lynch was articulate, exciting, revealing; he never forgot his grassroots. He is a missing man; he has left a legacy that would be difficult to follow."
Sir James revealed his first encounter with Lynch, saying that the man who would become the spokesperson for the NDP faced some opposition as he prepared to chair a meeting for the party in Stubbs.
"I was glad I was there, because there were some of the purists in our party who didn't think that any man with a record should be gracing our rostrum.
"I am glad I insisted and said, 'Let me hear the man'," Sir James said.
Lynch was imprisoned about 30 years ago for embezzlement when he worked at the Income Tax Department.
To the children of Lynch, Sir James said:
"You can walk this country proud in the memory that your father has toiled in this political wilderness of St. Vincent and left a lasting impression.
"I just want to say again my assessment of Lynch: that he was from humble beginnings and he had a brilliant mind, and he used that mind, with all of his wisdom, to advance peace and prosperity in this land," Sir James said.
Gonsalves, when he spoke — amidst jeers and boos from some segments of the congregation — extended condolences to the family of Lynch and announced that he will "publish" his tribute at a later time, then took his seat.
Gonsalves delivered his tribute on Star FM Saturday afternoon.
Bryan Alexander, who delivered the eulogy, spoke of how the "mostly self-taught" Lynch (father of national scholar Shafia London) passed six of seven O' Levels he sat on his own, including earning a distinction in English language.
Alexander said that in 1985 Lynch encouraged him to launch the newly formed band, "TOUCH" at his business, "Save a Penny".
"…he never told me how much money the band would be paid…  Anyway, EG did pay us a good sum, and then asked if we could do it again the following week. He was smiling from ear to ear as he said so," Alexander said.
"E.G. was what we call a hustler and a true innovator.  My friends, EG was unbelievably innovative," he said, adding that E.G. would place $500 at the top of a tall greased pole and have persons pay EC$20 each for a change to try to retrieve and keep the cash.
Eulogy of Elwardo 'E.G.' Lynch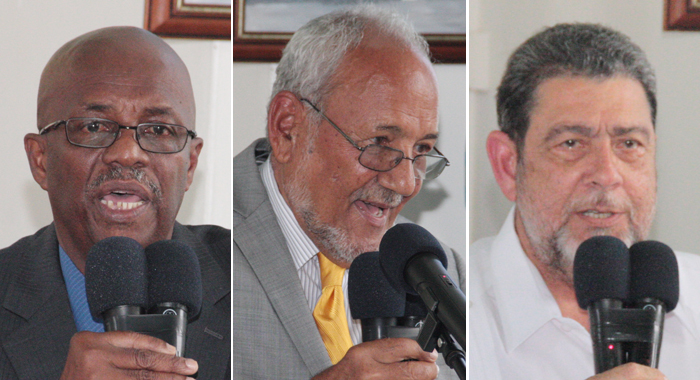 He also spoke of Lynch's "error of judgment" that resulted in him being imprisoned.
"And although he paid the debt that society demanded, persons, including some claiming to be his friends, never passed up on the opportunity to remind him of this indiscretion," Alexander said.
"But, just as poverty could not deprive E.G. of an education, his mistake did not prevent him achieving — maybe even spurred him to — greatness. Upon his return, E.G. hit the ground running, crafting a legacy of which his children and a nation can justly be proud," Alexander said of the man who, along with Ferdie Toney, founded what is today Ferdie's Footsteps in Georgetown.
Alexander said Lynch was an ardent supporter of the NDP who battled on with and for the party "even in the loneliest days after the 2001 general elections", which the party lost 12-3 after 17 years in office.
"… we fought outnumbered until now about to achieve what we all set out to do. E.G. is not here. Like a modern-day Moses, he will not see the Promised Land, but he was the man with the microphone for a staff, helping to point the way," Alexander said.
"I have never met anyone who was as loyal and kind … Nor have I ever met anyone with E.G.'s attributes — the way he spoke with authority on any subject matter gave the impression that he was university trained and had majored in several disciplines. His intelligence rivalled the brightest," Alexander said.
In his sermon, Rev. Father Ulric C. Jones quoted one of his professors as saying, "The big man is always willing and ready to say that he is sorry, whereas the small and arrogant man cannot bring himself to do the same."
The priest said the funeral service was for several reasons, the first being to thank God for the Lynch's life and all that he meant to so many.
"He was an extraordinary man. We truly need to thank God for him," Rev. Jones said.
Lynch, 70, died on July 9 after an extended period of illness.
In addition to problems with his eyes, he also suffered a number of strokes, including one while hosting New Times in late 2012.
He was buried at the Chilli Cemetery in Georgetown.