Leader of the Opposition Arnhim Eustace says the development at the funeral of Elwardo "E.G." Lynch was orchestrated in an attempt to absolve Prime Minister Ralph Gonsalves of his contemptuous attitude to the propagandist during his lifetime.
"What developed, and something that the leadership [of the New Democratic Party (NDP)] is now being blamed for as having not stopped, was started by Prime Minister Gonsalves. That's how I will put it," Eustace said.
Some mourners booed, jeered, and otherwise heckled Gonsalves as he entered the church behind the cortege and later as he was called to deliver a tribute.
(Scroll for video reports on the funeral)
"I would not have intervened there at all, because I knew it was set up. I knew they were trying to take the blame away from the contempt displayed by the prime minister to E.G. Lynch, fearing that people will react to it. You don't expect people to react to that?
"A man who was well loved in the society, you may not be an NDP supporter but he was well loved and respected by many, many people in this country, and he appeals to you with his hand, and look at the kind of contemptuous statement … the prime minister made there in that recording," Eustace said.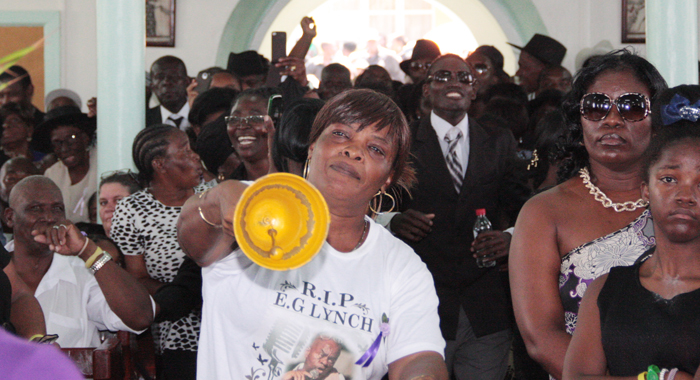 Eustace, who is president of the New Democratic Party, was speaking on radio on Monday.
The recording he mentioned, which was also played on the radio programme, "New Times", on Monday, was of Gonsalves commenting on Lynch's asking him for forgiveness for defamation.
In the recording, presumably from when Gonsalves hosted the radio programme "Ralph on Star" some years ago, a female caller says, "Ah wah yo deal with Lynch hard."
"The last time, when the thing came up for big money, for Lynch to pay, when there was a proceeding in the court, he come and say we wah beg me pardon," Gonsalves responds in the recording.
"I tell him that it too late to beg me pardon. And he holding up me hand. I tell him, I say, 'Lynch, I am not that kind of a man. I am not a woman. What you hold me hand for?' Beg me pardon — I don't want no pardon from him. When the time for them to beg me pardon, they didn't say it. They must be think that Ralph Gonsalves is going to roll over," Gonsalves further said.
Commenting on the recording, Eustace said Gonsalves spoke of Lynch "in such a derisive manner, with such disdain and contempt for a man who used to be his friend and who was once with him in politics.
"Listen to that comment from a prime minister, responding to a talk show host who he took to court and who he appealed to him for forgiveness…
"That explains, to a great degree what happened on Saturday. A lot of people were annoyed by the contempt to Lynch by this prime minister over and over again and to others of us here," the NDP leader said.
https://www.youtube.com/watch?v=UPlNrNLWbOQ
He said he listened to the response of the media after the heckling of Gonsalves on Saturday.
Eustace recalled that in 2010, when there were several incidents of violence in the lead up to the general elections, he had called on Gonsalves to join with him and make a statement condemning the violence.
"The Prime Minister answered me with total contempt. He said I wanted to play prime ministerial. The same press said not a word about that. Not a single word about that contemptuous answer," Eustace said.
PM says no to joint peace conference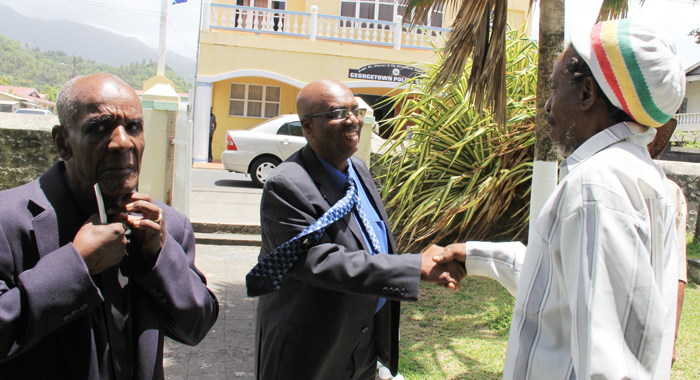 He further spoke of the incident in 2011 when some opposition lawmakers were reportedly injured as they were thrown out of Parliament
"We were in Parliament a few years ago when parliamentarians were being beaten right outside the door. … The same prime minister sat down there and continued the Parliament without an inquiry or coming to see the beating up that was taking place outside," Eustace said.
Opposition lawmakers thrown out of Parliament
"The press said nothing about that. They didn't call on him and ask him why he didn't come out and try to mediate that situation. Now you are calling on me to come and talk because some persons expressed their dissatisfaction with the way Mr. Lynch was treated?" Eustace said.
"People were incensed because they love Lynch and they knew how he was treated, and they objected strenuously to that treatment.
"As I said, we were there, as we ought to be, given Lynch's contribution to our party and this country. We were properly dressed, too; not like the prime minister. And we paid our respect to Lynch for his service."
Opposition MPs wore suits to the funeral, while Gonsalves wore trousers and a guayabera ("Wedding Shirt"), a type of formal wear in Latin America and the Caribbean.
Eustace further said some of Gonsalves' "own people warned him that he should not go into that funeral because it will cause problems.
"He had to have his way and we know know the result of him having his way.
"It was horrible the way lynch was treated over many years, and when the time came to show some mercy [Gonsalves didn't].
"But he must get forgiveness because people demonstrated against him? Well, I am not forgiving him for that. His comments were too contemptuous of a citizen of this country, who happens to be EG Lynch, our radio programme coordinator," Eustace said.
http://youtu.be/5wDrdYeI0bs