Was Grenville Williams pressured to nominate fellow contender Jomo Thomas as the Unity Labour Party's (ULP) candidate for South Leeward?
"That is a question I will not answer, but I believe I made a decision in the best interest of the party and the best interest of the country," Williams told I-Witness News Saturday night after the party's constituency conference in Vermont.
Some of Williams' supporters walked out of the meeting after he took to the podium on the heel of an announcement by party leader Prime Minister Ralph Gonsalves that Williams would nominate Thomas as the candidate.
(Scroll for link to photos)
After the meeting, one woman was very vocal on the outside of the Vermont Community Centre, where the meeting was held, in voicing her objection to the process.
After the meeting, as Thomas socialised with other comrades, the woman announced loudly her address and said that Thomas should not come into her yard during his campaign.
Thomas and Williams were contending to be the ULP's candidate for South Leeward in the next general elections, constitutionally due in December 2015.
The ULP said a runoff would have been too fractious and opted for a poll of constituents.
ULP insiders had previously said that former candidate, ex-senator David Browne, was the most favoured candidate, with Thomas second and Williams third.
But Gonsalves told Saturday's meeting that Thomas outperformed Williams and Browne.
Browne, who had long indicated that he no longer wishes to vie to be the candidate, seconded the nomination on Saturday.
While Williams nominated Thomas, he was evasive about whether he will actively campaign for him.
"I will be actively working in the best interest of the country," Williams said. Asked a second time if he will actively campaign for Thomas, Williams responded, "I will be actively working in the best interest of the country and of the party."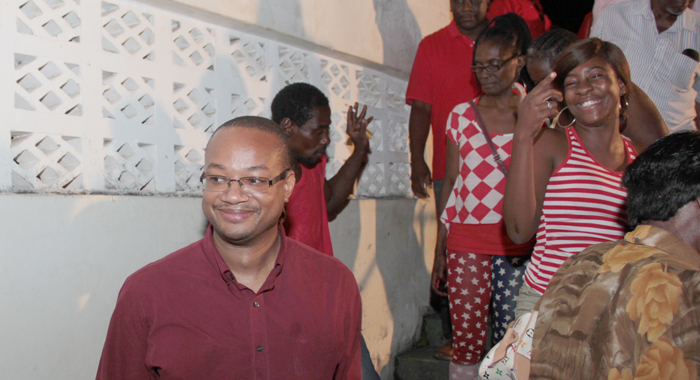 Meanwhile, when asked if Williams was pressured to stand down, Thomas told reporters, "I wasn't part of any pressure. I got to tell you, … Richard Cox and Sehon Marshall organised a meeting — I had a meeting with Grenville last evening.
"My understanding is that he was prepared — because we had done a process, all of us had decided on a poll. I came out victorious in the poll and in that conversation last night, he had expressed a desire to support me going forward. So, I did not expect any controversy, I certainly didn't expect a vote because we had already decided on a process," he said.
Thomas was elected unanimously, as there were no other nominees, and none of the delegates objected or abstained from the vote.
"I think some of the people might have been misled into what should have taken place today, and evidently, once that did not take place as they expected, they might have been disturbed.
"But I expected they might be disturbed. It is inevitable. We can look at events and the way they unfold around the world. When [Barack] Obama went up against Hillary Clinton, many of Hillary Clinton's supporters would have been disturbed that Obama emerged, but, as we saw in that election of 2008, clearly, they united around Obama and Obama won.
"I expect to see us unite and to fight hard and to win this seat. I have no doubts that it would happen," Thomas said.
Meanwhile, Gonsalves said, Williams was not pressured to stand down.
"Absolutely not! Grenville Williams? He is a principled man, he is a very committed man, he is a strong supporter of the Unity Labour Party, and what South Leeward has now is three for the price of one:  Grenville, David and Jomo," Gonsalves said.
Asked about the persons who walked out of the meeting, Gonsalves said,
"If there were persons outside, if they were ULP members, they should have been inside.
"… I didn't see people walk out of the meeting. You might have seen that. I didn't see that and I had a vantage point. [They] might have been people on the steps and who came down the steps," he said.
Gonsalves said the opposition New Democratic Party "will be distressed at this remarkable show of oneness, unity.
"You heard the rousing singing of 'bind us together, Lord; bind us with cords that cannot be broken'. And we seek the intervention of God to help us in that binding," he said in reference to the singing of the song at the end of the meeting.