(Scroll for video)
Some vendors in Kingstown complained Monday morning that the streets of the city had not been washed of dust after the flooding Saturday morning.
Sanitation workers cleaned the streets and drains of mud and other debris soon after the rains stopped Saturday morning. However, the streets were not washed with water, and the remaining dirt had turned to dust by Monday morning.
Several vendors, some of whom were washing the area where they sell, were seen wearing mask Monday morning, while pedestrians used their clothing and other articles to shield their mouths and noses from the dust.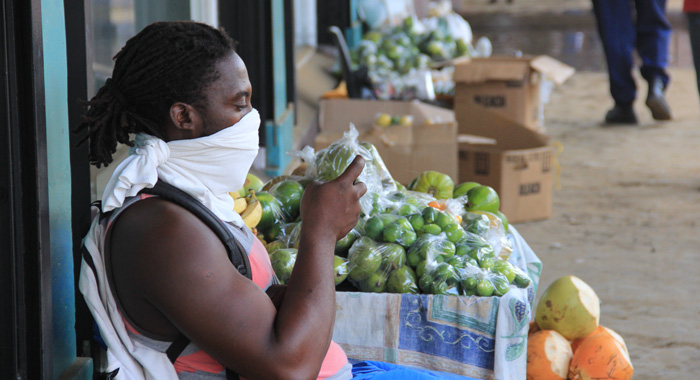 Delroy Nelson, who has been vending on Bay Street for several months, told I-Witness News that the situation should have been addressed already.
"Since Saturday the rain fall, I think they should have done something about it already," he told I-Witness News.
"The dust is killing everybody now in town," he said, adding that the Kingstown Town Board came by Monday morning and collected the vending fees as usual but said nothing about the dust.
"But at least since Saturday they should have washed down already," said Nelson, who had tied an article of clothing around his mouth and nose to protect against the dust.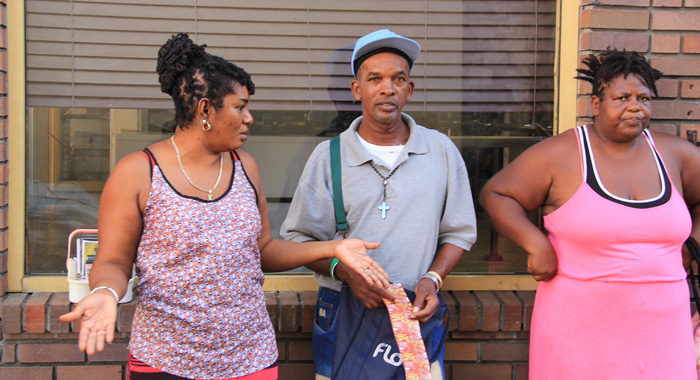 Meanwhile, Davie Williams, who sells in Middle Street, said she had paid a "vagrant" $10 to transport water, which she used to clean the spot where she sells.
"I find the town board workers shoulda done come out and clean up the street, because they collecting a fee. And I find this is very unfair to us, because I done come down here 6 o'clock with my bucket from my home and do what I have to do, and the rest gotta take their course too. So I find Town Board shoulda really done do this here," she said.
She said the Town Board was yet to collect the vending fee in that area when she spoke to I-Witness News at 8:45 a.m.
"They ain't come out yet, but when they come out I don't think I have it to pay because what I was to pay, I paid the vagrant man to joge (carry) the water to wash way my spot," she said.
Williams said the problem is a recurring one.
"Every time it has a disaster, Town Board doh come out and put a helping hand to the vendors in Middle Street. We is the one who always have to pay to clean this and I find it very unfair; very, very unfair," she said.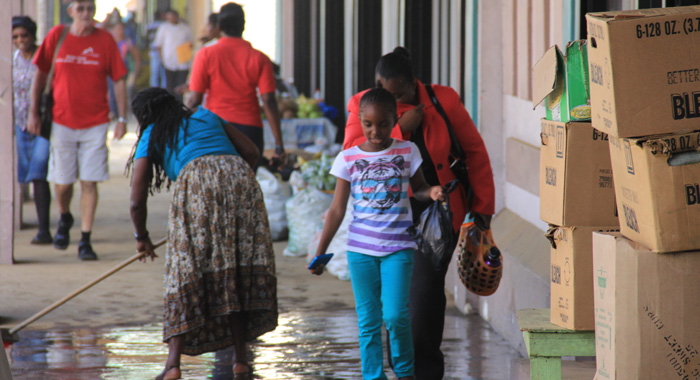 Warden of the Kingstown Town Board, Carl Williams was not in office when I-Witness News visited just before 9 a.m. Monday.
However, a staff member told I-Witness News that while the Town Board is responsible for maintenance of the physical infrastructure of Kingstown, the Sanitation Department is responsible for cleaning.
I-Witness News was told the Williams was in a meeting when we called again around 10:30 a.m.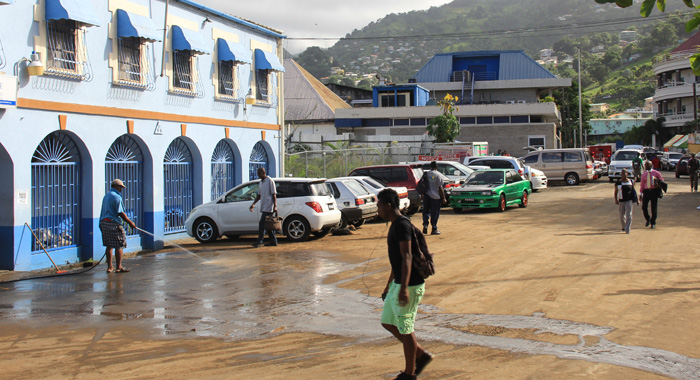 http://youtu.be/a_fSQ52X8LA