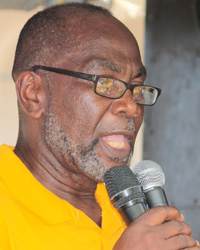 An opposition legislator has objected to public funds being used to do remedial work on houses at the government's housing development in Clare Valley, where a house collapsed last month.
MP for Central Kingstown, St. Clair Leacock made the point on his New Democratic Party's radio programme, noting that contractors were paid to build the house.
"And, in any event, it is equally not satisfactory or responsible, because these houses are built by people negotiating their own mortgages. Government, as I understand it, provides the houses," he said.
"It is not equally responsible, fiscally, that is, to say, well, we will remedy it by rebuilding the houses, because the houses were built by private individuals in the first place, and you are asking to remedy it with taxpayers' money.
"And that's not a way government runs business — that you feel you must keep people indebted to you by simply spending taxpayer' money over and over to do things that should not have been done in the first instance," Leacock said.
The government has said it will pay to carry out remedial work on the houses, some of which have been found to be poorly engineered, and poorly constructed, including sub-standard finish.
Some homeowners say their houses are shaking and that tiles are popping off their floors and bathrooms walls. They have also complained of poor drainage in the housing development.