Two opposition lawmakers have objected to uniformed Ecuadorian soldiers in St. Vincent and the Grenadines.
The Ralph Gonsalves government has said that the soldiers are in the country to build four Quito-funded Bailey bridges to replace ones that collapsed during the December 2014 extreme weather.
Speaking on his radio programme on Monday, Leader of the Opposition Arnhim Eustace spoke of the presence of the soldiers, adding that he understands that some of the soldiers will form part of the labour force for building the bridges.
He, however, asked the opinion of programme host, Central Kingstown representative, St. Clair Leacock, who also an opposition legislator and Vice-president of the Eustace-led New Democratic Party.
Leacock attained the rank of major in the St. Vincent and the Grenadines Cadet Force, of which he was also commandant.
He said countries are generally wary of seeing foreign troops on their soil, even if they have had historical relations with that foreign country, but often give way, from time to time, for ceremonial and historical reasons.
Leacock, however, said that SVG is at the beginning of a relationship with Ecuador, which was part of the campaign to remove preferential treatment for Windward Islands bananas in Europe.
"We must not lose sight of that at all. And if it is that Ecuador wanted to make a grand entrance into St. Vincent and the Grenadines and we wanted to have an open mind to it, I don't think that the military presence is the best way to do it," he said.
He said SVG should have a "martial plan" to kick start the economy after the disaster and should want to put monies from the rebuilding process into the hands of Vincentians.
"That's the only thing that would make sense, because if in fact the labour is going to go outside, which is really the value added … then the material benefit to St. Vincent and the Grenadines is negligible," he said.
Related: SVG to teach Ecuadorian teachers English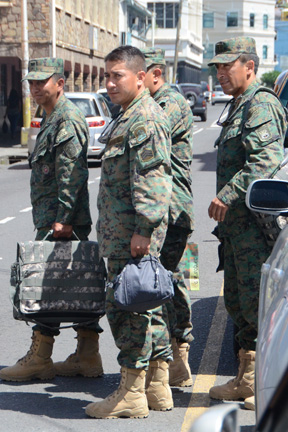 Leacock said it is "really reprehensible" that as an independent country, SVG couldn't respond to the "mildest aspect" of the disaster and re-build one single bridge, adding that this shows the country is badly run and has gaps in financing.
"To bring the military out of Ecuador to do that shows you how much we are behind time," he said, adding that he would have taken a different view if the soldiers were from a CARICOM country that has an engineering corps as part of its military.
He said soldiers from another Caribbean nation, would be seen as "our own people".
"But to take off this thing wholesale and to put Ecuador here in uniform to build bridges when [local tradesmen] are looking to how they can make a dollar is terrible," Leacock said, added that the bridges are being built in rural St. Vincent, where "this hands-up is needed most".
"And it is going be terrible to see the signal that is being sent. I don't think it's the best thing to happen to us at this time, especially in our Independence month," he said.
Eustace said he agrees with Leacock's view.
The Opposition Leader said he has  been receiving calls about the presence of the soldiers in SVG, adding that some people see it as something that they should be fearful of, "given the nature of the exercise as we see it thus far".
Eustace said that some persons have forgotten about the role that Ecuador played in eroding preferential access of Windward Island bananas to European markets.
He said countries in Latin American worked with the United States to remove preferential access, and Ecuador was one of the main countries in that exercise.
Eustace said this experience was one of the first things that struck him when he heard of the Ecuadorian soldiers.
"But I am glad you put a face on that matter so that we can think about it. We sometimes allow these things to pass; we say nothing. So I am looking forward to hearing the details of exactly how this matter is going to be worked out," Eustace said.
He noted that Gonsalves had said that Venezuela would pay wages of Cuban workers building the Argyle International Airport, but Caracas has not delivered on that alleged promise, leaving Kingstown to pay EC$370,000 to the workers every month.
One media house has quoted Commissioner of Police Michael Charles as saying there is not reason to be concerned about the presence of the Ecuadorian soldiers in SVG.
Ecuador made a commitment to rebuild the bridges when Gonsalves visited Quito in July. He defended his decision to visit the South American country, which he said is emerging as one of the progressive lights in Latin America
Gonsalves said Kingstown and Quito began developing strong ties after President Raphael Corea came to office in 2007.
He said that before then, what SVG knew of Ecuador was that Quito and Washington were trying to subvert the region's banana regime.
He, however, said that the nation cannot say that it will not have relations with Ecuador because Washington fought the region on the banana matter.