By E. Glenford Prescott
The St. Vincent and the Grenadines Cricket Association (SVGCA), in consultation with the National Sports Council, has put together a calendar of activities for all of 2015, which it hopes will cover every aspect of cricket development, SVGCA president Kishore Shallow says.
He said the activities will begin with the hosting of the Neil Williams T20 in the first week in January, which is being carried over from 2014 as a result of the unavailability of grounds at the time it was scheduled to take place.
This will be followed by the commencement of the Premier and First Division competitions, as well as the female competitions. Shallow said that the Association will seek to have more competitions for the females in the 2015 programme.
"In addition to the usual T20 for the females, we proposed to have a 40 over competition as we think it is necessary for the females to play a lot more cricket," he explained.
Indications are that female cricket in SVG has been somewhat on the decline, evidenced by SVG former winners of the regional title now consistently finishing in the lower places in the table. In 2014, the team finished fifth in the seven-team tournament.
Another area the Association would be giving some attention will be primary schools cricket, which has been dormant for a number of years.
General Secretary of the SVGCA Samuel Holder, the man charged with that responsibility, said that competition will be returning to the field very soon.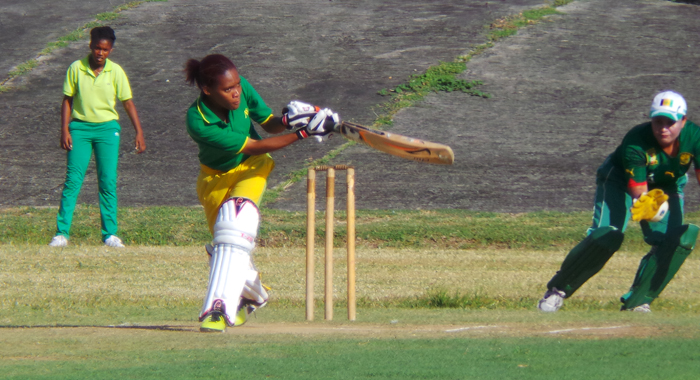 Holder, a school principal, said SVG's struggling at the youth level for the last decade may be attributed to the absence of cricket in the primary schools. He said after assessing the situation, the Association met with education officials and a plan was put in place to reintroduce cricket in the primary schools.
Holder said that the Primary Schools competition will be an Under-13 event and will run from April 10 to May 15. In addition, there will be an Under-15 competition mainly for the secondary schools to be played Feb. 16 to March 13. There will also be competition for senior secondary schools cricketers with the hosting of an U-21 competition set to take place Jan. 30 to March 20.
Holder said that both the Under-15 and Under-21 competitions are being held at the period when the Windward Islands Youth Tournaments are being held.
Another major announcement coming out of the press conference is the decision taken by the Association "to increase prize monies substantially".
Over the years, teams have expressed dissatisfaction with the prize monies from competitions and the Association says it will keep its promise to increase the prices.
While not disclosing the level of increase, Shallow said "the teams will be happy".
Team Rivals retained both the Premier Division Super40 titles, while Ishaltz Byam Therapy won the First Division.