Participants from St. Vincent and the Grenadines and other Regional Security System member states have spent two weeks at the Barbados Coast Guard Headquarters, HMBS PELICAN, attending a basic navigation course, delivered by a visiting training team from the Royal Navy (RN).
Certificates of completion were handed out by Victoria Dean, British High Commissioner to Barbados and the Eastern Caribbean, to participants at the course's closing ceremony.
She was joined by Colonel Alvin Quintyne, Chief of Staff of the Barbados Defence Force and Lieutenant Commander Howard Clark, leader of the visiting RN Maritime Training Team.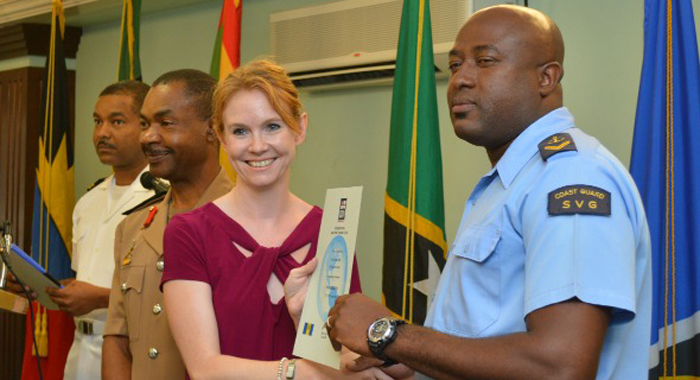 The participants studied a number of areas, including collision avoidance rules, chartwork, basic navigation plotting, harbour hazards, buoyage, navigation safety in harbour, command and control, coastal passage planning, ship/boat handling, and shipping reports.
Participants had the opportunity to put the training to practical use with day and night exercises on board the vessels of the Barbados Coastguard and the RSS.
Dean congratulated the participants saying, "You are all at the front line in the all important daily battle to stop illicit and dangerous drugs reaching these shores. You are helping stop the flow of marijuana and cocaine into your respective countries."
Participants from Barbados, Antigua and Barbuda, Dominica, Grenada, St Kitts and Nevis, and St Lucia were also on the course.