By E. Glenford Prescott
The history of early radio in St. Vincent and the Grenadines (SVG) remains sketchy, but information points to a steady advancement from the 1950s onwards.
It has been reported that radio in SVG started as a private enterprise by one Weston Lewis, an Amateur (Ham) Radio operator, who chose to start broadcasting in the early 1950s from his residence in Kingstown.
Documents show that he continued doing this until about 1957.
Indications are that a shortwave radio link, Windward Islands Broadcasting Service (WIBS), with headquarters in Grenada, came into being in 1954, one year before the famous Hurricane Janet, and linked the four Windward Islands — Dominica, Grenada, St. Lucia and SVG — in facilitating the broadcast of their news and other important information.
This saw the broadcast commencing at 11.45 a.m. and ending at 9 p.m. In those hours, there were newscasts from Grenada at 12:30 p.m.; St. Vincent, 1:40 p.m.; St. Lucia 12:55 p.m., and Dominica, 1:20 p.m. Following this, the stations went into their own programming with St. Vincent doing a Government Information Service programme and, among other things, a request programme.
The dismantling of WIBS caused by squabbling by the islands over who were not getting enough for their financial input saw what was said to have been the hurried creation of Radio St. Vincent, broadcasting from 6:30 a.m. to 8:30 a.m., then returning from midday to 9:30 p.m.
The station expanded and increased the hours of broadcast but remained the sole radio station up until the late 1990s when the James Mitchell government decided to issue licenses to private citizens. Vincentians were, however, prior to this, able to listen to radio stations from Barbados and Trinidad with Voice of Barbados arriving in the late 1980s with its new format of community radio quickly winning over their attention.
The opening up of the airwaves in SVG quickly saw the emergence of a new breed of people behind the microphones. They were the disc jockeys (DJs) whose fan base was cultivated through their dexterity on compact disc players and outrageous comments on the microphones.
The general perception is that they have taken radio to another level, something the purist vehemently disagrees with.
The fact is, however, SVG has now seen a plethora of privately-owned radio stations, most with similar formats — urban genre, but all vying for market share.
With some listeners following some of these established stations with near cult-like dedication, yet another radio station has hit the scene under the name Xtreme Radio, broadcasting on frequencies 104.3 and 88.5, once the co-ordinates of Cross Country Radio.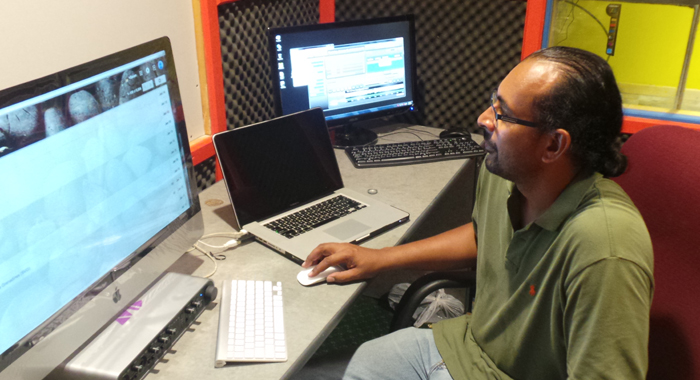 Educate. Inspire. Unite. These are the three pillars on which Xtreme Radio is setting out to carve out its niche, according to Davon "Basic" Cato one of the men behind the entity.
On a multiple-year lease arrangement with license owners CMCL, the management team of Xtreme is hoping to use the station to promote positivity among the populace.
Cato said his dream is to have the radio station as a vehicle to bring a difference to radio in SVG.
"This is something I have always dreamt about that is a radio station that can make a difference in the lives of the people of St. Vincent and the Grenadines and in particular the young people. It is all about entertainment and education, which is exactly what the youths are expecting from a radio station," he said as he checked out the sound quality and read comments on his phone from listeners from across the island.
Cato, who is also a DJ, said that from an early age he fell in love with music and radio and went into becoming a DJ much to the annoyance of his late father, Eyon Cato.
"When I started, my father threatened to throw my equipment out of the window on many occasions," he recounted.
"Then after he saw that I was not quitting, one day he came home with some jacks and connection and asked me if they were any use to me. I said 'yes' and we then sat down and I went through what I was doing and after that he gave me his office at home to set up and practice," he said, a broad smile on his face.
Speaking about the new project, Cato said he is confident of the station making a mark in SVG, based on the personalities and the direction they intend to move.
"We have Shanubi, Galanaire, (Top Notch) Swift and out of Trinidad we have Rodney 'Fireball' King in addition to some of the leading DJs. So based on that, we can compare with the others," he said.
Cato said that they would be attempting to play all types of music but will focus on being positive and as much as possible avoid getting drawn into the national politics.
"I will say we are urban, but international urban, where you play a little of this and a little bit of that, including calypso to satisfy all our listeners. But I must say that while we will commit to playing calypsos, we will seek a certain standard with these songs."
Cato said the station will try to incorporate students in aspects of their programming because it is their intention to promote and develop.
But what does the name Xtreme Radio mean anyway?
"The X is an unknown factor. We know what it's about but the people must join us and find out, but I can assure them that Xtreme Radio is going to be the station that
changes the way they look at radio".
Mark Richardson is the other man behind the project and he spoke passionately about his desire and expectations for Xtreme Radio.
"I want us to be able to partner with communities to bring what they are doing to people, to bring whether be it a small goal competition or any community activity, Xtreme will attempt to be part of it," he said.
"We also want to work along with our sponsors to cover events in which they are involved. We must be part of such activities to help rekindle the community spirit and to promote peace and love among all," he said.