1,531 students dropped out of school between 2009 and 2013
235 of them were primary school students
1,296 of them were secondary school students
33 students quit without completing the first year of their primary school education
224 students quit secondary school without finishing the first year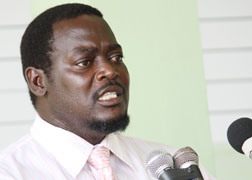 An opposition lawmaker has expressed concern about the number of school dropout in St. Vincent and the Grenadines.
Ministry of Education statistics shows that between 2009 and 2013, 1,531 students dropped out of school, 33 of them at the kindergarten level.
"Mr. Speaker, for years I have been lamenting that students from Union Island, Canouan, Mayreau — to a large extent Canouan and Mayreau — have been dropping out of school for various reasons," Member of Parliament for the Southern Grenadines Terrance Ollivierre said Monday during the Budget Debate.
Ollivierre, a member of the main opposition New Democratic Party, said that students in his constituency have problems accessing secondary education, adding that in the 2013-2014 academic year, six students from Mayreau quit secondary school.
"I think it was 28 of them who travelled to Union Island on a daily basis for secondary education. At the beginning of this term, a further two have dropped out of school. So, in a short space of time, eight students have dropped out of secondary school, meaning they are not able to complete their secondary education for various reasons," Ollivierre said.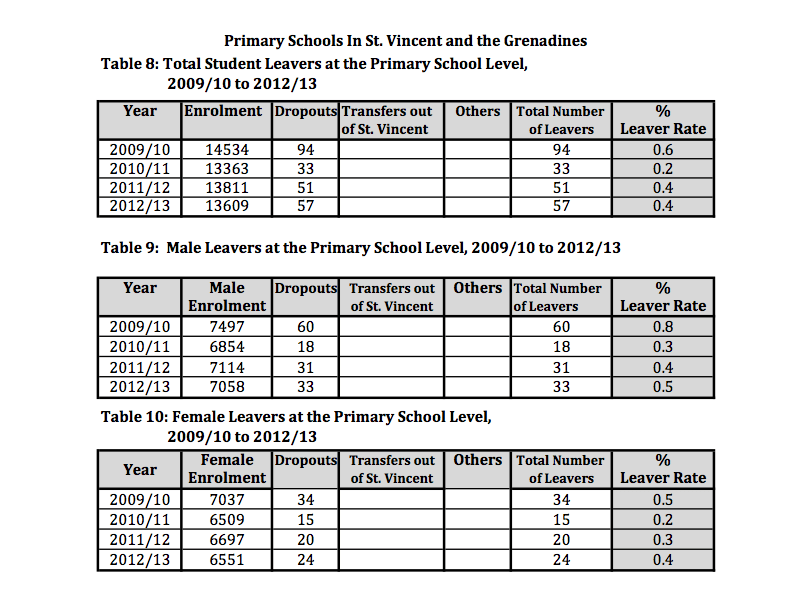 He told Parliament that the situation led him to investigate the school dropout rate nationally.
"And I was amazed also, while looking at the dropout rate for secondary schools, that I noticed that students are also dropping out of primary schools at the various levels…" he said.
"Mr. Speaker, the statistics for 2009-2010 to 2013 [shows] that 2009-2010 you had 94 students dropping out of primary school, 2010-2011 – 33, 2011-2012 — 51, 2012-2013 — 57, giving you a total of 235 students dropping out of school at the primary level for the four years throughout St. Vincent and the Grenadines," he said.
Ollivierre was quoting from a document, "St. Vincent and the Grenadines Educational Statistical Digest 2013", published by the Ministry of Education, with forewords by Minter of Education Girlyn Miguel, Permanent Secretary in that Ministry Nicole Bonadie-Baker, and Chief Education Officer Lou-Anne Gilchrist.
The statistics show that 143 students dropped out of primary school between 2009-2010 and 2012-2013 academic years, while 93 females dropped out during the same period.
At the same time, 1,296 students dropped out of secondary school, 224 of them in Form 1.
The total number of secondary school dropouts is composed of 748 males and 548 females.
Ollivierre noted to Parliament the number of students who quit school before completing their very first years of primary education.
"And, could you imagine even at Grade K 33 students … have dropped out of school in that four-year span?" he said, adding in response to comments from across the floor, "The statistics were prepared by the Ministry of Education."
In Grade 6, 49 students dropped out, contributing to the total of 235, Ollivierre said.
"We may ask what are the reasons for the dropping out. We may have to ask what about the locality, because that wasn't given, whether it is rural, urban – what are the reasons for students dropping out of school?" said Ollivierre, a former teacher.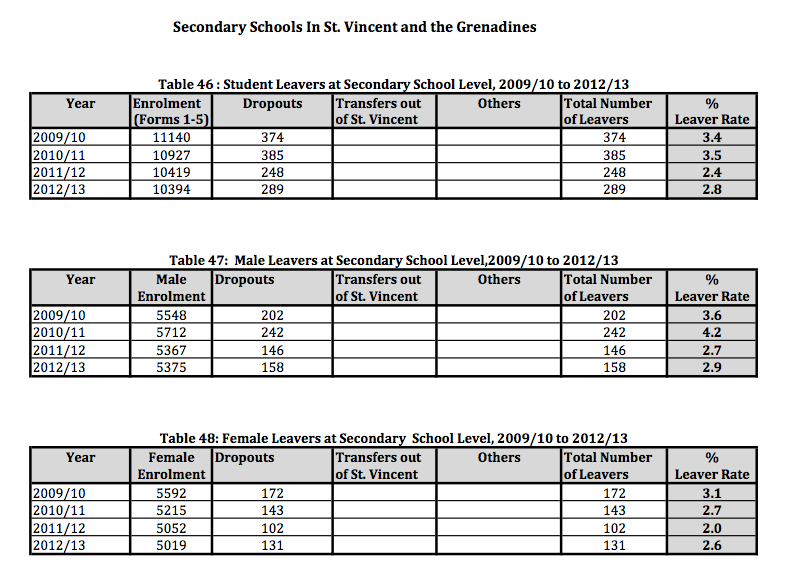 He also disaggregated by sex the 1,296 students who had dropped out of secondary school.
"Of that, 748 were boys and 548 were girls. And as I said again, they were at various levels, from Form 1 to Form 5. And what the statistics has shown is also that most of the dropouts occurred at the Form 3 level. Is there a reason for that?" Ollivierre said.
He said further examination of the stats has shown that from Forms 1 to 3, the number of dropouts was higher for boys, but from Form 4 to 5, it was slightly higher for girls.
"What are the reasons for that, again, Mr. Speaker. And we talk about compulsory education, Mr. Speaker," Ollivierre said, noting that "compulsory education" means that children ages 4 years to 16 years of age must attend school.
"And, Mr Speaker, I was so glad when I heard the minister speaking about the school attendance officer," Ollivierre further said.
Ne noted that the Education Act of 2005 speaks of school attendance officers, who "shall be responsible for the enforcement of compulsory school attendance in respect of all children of compulsory age within the district or area to which he is appointed".
The opposition lawmaker further pointed out that among the duties of school attendance officers is to "inquire into every suspected case of unlawful failure to attend school within his knowledge or when requested to do so by the Chief Education Officer or the principal of a school".
The law further says that a school attendance officer may give to the parent of a child who is not attending school written warning of the consequences of the child's failure to attend school; or written notice to cause the child to attend school forthwith.
"A school attendance officer may apprehend and deliver to the school from which he is absent, or to his parent, any student found absent from school without having an excuse under section 41 (2).
" A school attendance officer who has reasonable cause to believe that a person is in contravention of section 41, may at any time, upon presentation of his credentials — enter any premises and make enquiries needed to determine whether there is a contravention of section 41 in relation to a child of compulsory school age whom the school attendance officer has reasonable cause to believe to be frequenting, visiting, residing, or employed on the premises; stop and question any child who appears to be of compulsory school age but who is not at school concerning," the law says.
"So, Mr. Speaker, my question to the Minister of Education is, 'Who are the school attendance officers? Do we have any? We have 11 school districts; do they exist in all of the districts? Do we have any—"," Ollivierre said, as Miguel stood, saying that she wanted to "provide some elucidation".
"Honourable Member, I did say that we are going to start in 2015. Maybe that missed you, but we are beginning the process now," the education minister said.
"So, the answer is we don't have any at the present time?" Ollivierre responded.
"We are going to start; the year has already begun," Miguel answered.
"Remember this act was revised since 2006, and from then to now we haven't done anything," Ollivierre, however, contested.
"It's a costly measure you know. It's costly," Miguel retorted.
"Which means that of 1,296 in secondary schools and the –"Ollivierre was saying, when Miguel fired back, "But you don't know the reasons why. You are half-baked in your –"
"I am asking for the reasons and if the attendance officer were in place from since that time, then we would have made progress in order to deliver the resources to students who are presently out of school, and that is the point which I am making, Mr. Speaker," Ollivierre said.
"I know of students who are being put out of class because they don't have the books. … We've been saying it over and over on this side of the House that the monies that are put into the book loan scheme is not enough, it is insufficient, because when you go, students at the secondary school, some only get three and four books.
"Their parents cannot afford to buy the books, and if we are talking [about] having a university graduate in every home by 2010, measures must be put in place to give the poor a fighting chance. Give them that. Provide them with the resources so that they will be able to complete not only primary but also their secondary education. And that is the point we are making, Mr. Speaker," Ollivierre said.