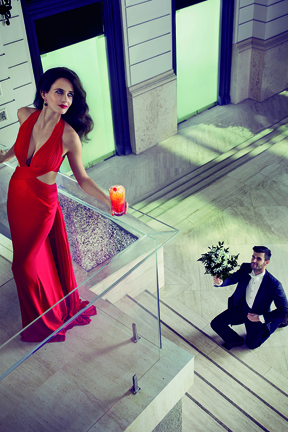 Two Vincentian executives at Coreas Hazells Inc, local distributor of Campari, attended the regional launch of the 2015 Campari Calendar in St Lucia last weekend.
The two — Jimmie Forde and Carlton "Teddy" James — joined their regional counterparts for the launch of the calendar, which is entitled "Mythology Mixology" and features some of he world's leading models.
Forde is Divisional Manager in charge of Food & Beverage and James is Sales and Marketing Manager – Spirits, Wines and Cigarettes at Coreas Food Division.
Forde and James also used the opportunity to seek insights into the success of Campari in St Lucia, the largest consumer per capita of Campari in the world.
"Campari is a relatively new brand to St Vincent and the Grenadines. It's bitter and you have to acquire the taste for Campari. But as you try the product more, you accept it. And like everything else, alcoholic beverages are about fashion, style, and the way it makes you look, the way it makes you feel. Campari has become trendy because of the people who are drinking it," James said.
The iconic 2015 calendar features this year's stunning leading lady, Eva Green. The cover photo from the calendar features Eva wearing a beautiful, custom-made red gown, poised against Campari's wheel of time.
The wheel symbolizes the key dates in Campari's rich and colourful past, where 12 of its most iconic and best-loved cocktail recipes were born. The Campari Calendar, of which only 9,999 copies are printed, will not go on sale, but will be distributed to friends of Campari around the world.
Paul Marshall, Sales and Marketing manager, Brydens, St Lucia, pointed out that Campari was introduced in St Lucia 25 years ago. He said the drink, which is made with herbs and spices, originated in Italy, where it is drunk in very small shots.
"Some persons decided that because it is made with herbs and spices, it must have some aphrodisiac qualities; hence the increase in consumption," Marshall said.
"Campari is the most mixable drink in St Lucia. It's being mixed with orange juice, Sprite, soda, grapefruit juice, soda water, strong white rum, tea and milk. Mackeson and Campari is also a mix of choice."
The calendar was shot by the worldwide acclaimed and exhibited fine art photographer Julia Fullerton-Batten, the first ever woman to get behind the lens on the Campari Calendar.
Campari fans can follow the journey on social media and get involved in the action at #CampariCalendar. Here, they can discover all of the calendar imagery and will be able to watch behind the scenes footage across the Campari feeds, including Facebook, Twitter, Instagram and Pinterest.