The main opposition New Democratic Party (NDP) says it remains committed to completing the EC$700 million international airport under construction at Argyle if it is elected to office in the next general elections.
General elections are constitutionally due in March 2016 but are widely expected this year.
Leader of the Opposition Arnhim Eustace told listener to his weekly radio programme on Monday that while his party still has concerns about the implementation of the project, too much money has been invested for it not to be completed.
He was repeating a position first enunciated on the eve of the December 2010 general elections when he announced that his party is committed to completing the project.
The airport, which has missed several deadlines since 2011, including December 2014, is now expected to be complete in October 2015, head of the Tourism Authority, Glen Beache has said, even as other government officials have avoided a definite date, saying only that it will be completed "later this year".
Related: 
Observers, however, have expressed doubt that the project will be completed this year, and Eustace said that he does not believe that it will be finished by the end of 2016.
Eustace said that his party will bring persons up to date on what is happening in St. Vincent and the Grenadines, including the airport, when it holds a mass rally in Sion Hill on May 9.
He reiterated that since 2010 the NDP has said that it will do everything in its power to continue the airport.
"We know it's not very viable because the government had done a lot of stupidness with the cost of the airport, but we can't have that millions and millions of dollars spent and the airport never opens," the former finance minister said.
"Of course, we don't believe it will be opened anytime soon, certainly not in this year or even next year, but, with that kind of money spent on it, it's something we have to look at very carefully and do what we can to complete the airport.
"I know some people don't agree with that because they figure it was a bad project in the first place in the sense that it costs so much, it wasn't properly studied and designed and so on, but the reality is lots of money has been spent," said Eustace, an economist.
"It's not a matter of stopping work and forgetting about it. We can't forget the amount that has been spent," Eustace said.
He expressed that some persons whose properties were acquired to build the airport are yet to be paid.
"I understand that 61 landowners … have not yet been paid for their land and we hear all kinds of glorious stories about the airport," he said, adding that he was "fooled" some time ago when he saw what he thought was a lot of paving of the runway.
"And somebody told me it is oil that they just put down there that makes it appear as if they put asphalt on it."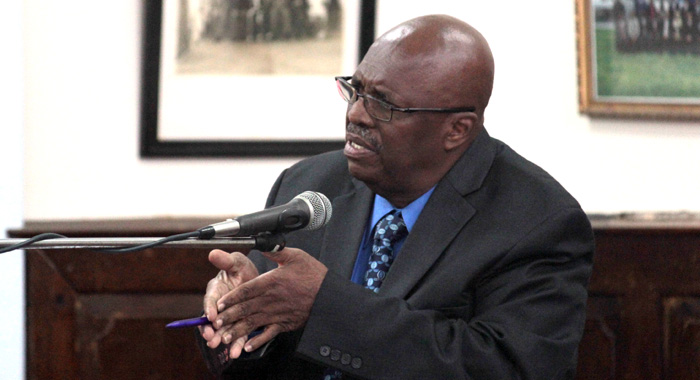 Eustace said he was told that the fuel for the aircraft will be pumped uphill before it goes down into the airport itself.
"I understand this is a very expensive project, could cost about 30 million dollars. US dollars I am talking about. Just to get the facility to fuel the aircraft that land there. To get the fuel into the tanks, it has to be pumped up through an 8-inch pipe and then down in the airport site itself, from the sea," Eustace said.
He said that element of the project, which is expected to take some time, has not started as yet.
"So when you tell me you are going to open anytime in this year, you are just joking and making a fool of the public of St. Vincent and the Grenadines. It's just not possible and our people should not be treated in that manner," Eustace said.
"Every year it is to open. And every year it does not open, it says something about us. I'm tired looking at the LIAT magazine and every time you look at the LIAT magazine to see what is coming, oh look out for new airport at Argyle in St. Vincent and the Grenadines. New what? That's a long time before it is finished," Eustace said.
"It's a very, very serious matter, but the New Democratic Party, at its meeting since 2010, had committed itself to finish the airport."
"We are against the way the airport was done, the way it was designed, the waste of money that has taken place there, and constant delays n its finishing and constant delays in paying people. Some people have not been paid for years," Eustace said.
He told listeners that there is "some suggestion that people with inside knowledge has bought lands out there, and even constructed some houses for sale based on their knowledge".
He spoke of the scope of work that is yet to be completed, saying, "And every completion date that has been set, they have failed.
"We just can't keep on going like that, and there is no point fooling the public. They are going to see it anyway. And I hear all sorts of stories about that airport. And, in the meantime, our economy is getting worse and worse. Tourism in trouble, agriculture in trouble, everything is in trouble; there are no positives that you can talk about right now. Well don't talk about unemployment and the closure of businesses," Eustace said.
Related:
Meanwhile, Jennifer Richardson, communications officer at the International Airport Development Company (IADC), the state-owned company that is building the airport, told the state-owned National Broadcasting Corporation recently that work on the airport is "really progressing well".
"From what I have observed, the work is really speeding along at this time. The major areas of concentration right now are on the apron and paving of the runway, also the river, which is a major engineering undertaking," Richardson said earlier this month.
She was referring to the spanning of the Yambou River, which is being channelled under the runway.
She said the commercial apron is about 90 per cent complete and workers are focusing on the general aviation apron and work on both turning heads are complete.
She said 300 metres of  the northern end of the runway have been paved with asphalt.
"And that work is going quite well, and they will move across to the southern end. When we complete the work there, we will continue coming along in a northerly direction so that we can get to where the base is being now laid in the second kilometre."