Petroleum products dealer SOL will over the next two weeks continue the launch of its rebranded service stations and "Go Further" fuel across St. Vincent and the Grenadines.
The rebranding comes as the energy solutions provider expands its Sol Retail Brand by rebranding Shell service stations to Sol service stations in St. Vincent, Barbados, Grenada and St. Lucia.
Speaking at the rebranding of Martello Service Station in Cane Grove, Steve Francis, general manager of SOL EC Ltd., said that service station was the very first that Sol built in 2006, having taken over the business in the Caribbean from Shell in 2005.
He said that since then, the company has grown "by leaps and bounds", expanding from the eastern Caribbean into French-, Spanish-, and Dutch-speaking countries in the Americas.
"We have grown by significant leaps and bounds, and I think that this is a significant milestone for any Caribbean company to attain," he said.
Francis said that the fuel business is a very high operating cost trade, because of the emphasis on safety.
"But, notwithstanding that, I think we have weathered the storm," he said.
He explained the rebranding from Shell to Sol, saying there is no strained relationship between the two entities.
"There comes a point in life when one has to move on. As you know, you can't live with your parents forever. You have to move out at some point in time, hence the reason we decided it was time for us to move. And when we moved, we said we would develop our own fuel. We wanted not just our own brand of service station."
He said the technical staff then developed the "Sol Go Further Fuel".
"On a full tank of gas or diesel, based on an 1800cc engine or 1.8 litre engine, assuming that you keep your vehicle in good working conditions — good tires, good lubricants, you can expect an extra 10 kilometres from a full tank," Francis said of the "Go Further" fuel.
"So, in other words, what we are launching is an economy fuel," he said.
Member of Parliament for South Leeward Nigel Stephenson congratulated Sol on the rebranding initiative.
He told the launch that in this volatile economic environment, rebranding is important and that he believes that this will reposition SOL within the market.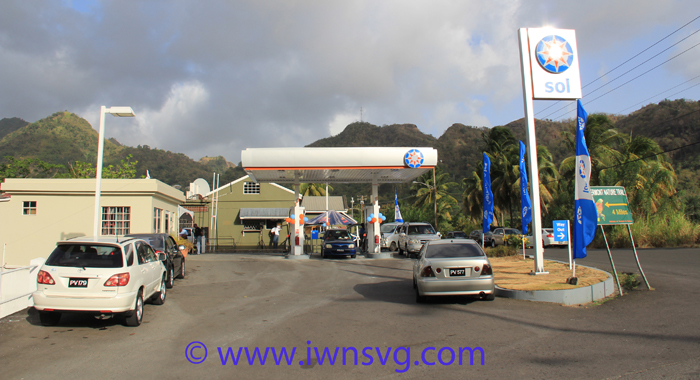 Minister of Trade Sen. Camillo Gonsalves said that he is proud to see the work that Sol is doing across the country in the rebranding of its service stations.
He said that in the past, there have been some providers of fuel who have thought that because everybody buys fuel and there are few service stations across he country, they can simply sell fuel without much concern for the physical appearance of the service station and customer service.
"It is a lazy approach to business and it is an approach that I can tell you that Sol does not have. They have clearly dedicated themselves to customer service, to proper branding and to providing consumers value for money. And in this rebranding exercise, I think this is an example of the dedication that Sol has shown to the customer experience and customer service for everyone," Gonsalves said.
Manager of the service station, Martello Knights, said the rebranding comes as Martello Investments prepares to celebrate its 10th anniversary.
"The product is very good. The van drivers appreciate it, and as long as they appreciate it, then we sell more fuel. More profitable business, more profitable country," he said.