By E. Glenford Prescott
No stipend, no travel.
This is the ultimatum given to Team Athletics St. Vincent and the Grenadines (TASVG) by two of the country's top athletes and their coach.
Reports say that track and field twin Reuberth and Roberto Boyde and coach Garth Deshong have indicated to TASVG that the athletes, who have been selected to travel to the Hampton Games in Trinidad later this month, will not do so unless they are given some form of stipend.
When contacted by I-Witness News on Thursday, coach Deshong confirmed that they had in fact indicated to the TASVG that the athletes must receive a stipend or they will not be traveling.
"It has now gone on for too long. These guys have been travelling and representing this country and never received a single cent from the Association (TASVG) in the form of a stipend and we feel that things must change and we have decided to take this stance."
Deshong said that the athletes, whom he has been training for the last six years, have been funded by him with everything from doctor bill to gear while the TASVG, he said, has been getting funding to assist with the training of national athletes.
He said that the twins at times are placed in hotels where the food is not to their liking but cannot afford to get something to their liking because of lack of funds, but this is not the case with athletes from other countries at the same event.
The coach said that while he is happy for the athletes to get the exposure, he cannot allow TASVG to take advantage of them anymore.
Asked if the matter was ever brought to the attention of TASVG prior to the ultimatum, Deshong said no but it was no secret that athletes were unhappy with that situation and a number of others as it relates to state of track and field in SVG.
The decision by Deshong and his athletes has received some support from former president of the SVG Football Federation St. Clair Leacock.
In a call to a sports programme on a radio station Wednesday night, Leacock, who is also the MP for Central Kingstown, said he felt that the athletes and every sportsman or woman who leave SVG to represent the country must be given a stipend.
"We did it when I was in the Federation because it is important to compensate people when they are on national duty. You cannot just pay somebody passage and put them up in a hotel and they cannot even bring back a souvenir for their children or wife or whoever they have back home. These athletes must not be left out of pocket while on national duties," Leacock said.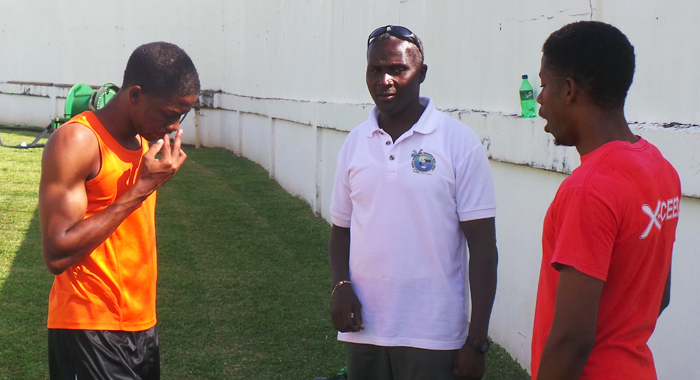 Top track and Field coach, Michael "Mercy" Ollivierre also supports the athletes' demand for a stipend.
"When the officials travel they are given monies, so why not the athletes? It is about time that somebody starts looking out for the athletes and there is no better time than now," he said.
In addressing the issue, programme host Justin Douglas, pointed to the treatment meted out to Courtney Bascombe who is working in Trinidad and had requested a stipend to assist with shortfall in his earnings and was promptly axed from the team to which he was selected.
The issue was reportedly raised at a meeting Wednesday evening at the NOC headquarters with athletes and coaches who are due to travel to the May 23-24 Games.
General Secretary of TASVG, Tyrone James, when contacted, declined comment on the matter.
In addition to the stipend for the athletes, Deshong also expressed his disappointment at not being allowed to travel with his athletes as coach.
He said that he has been coaching the two athletes six days a week most times and yet is not being selected to travel with them to events and sees this as "a slap in the face".
"Since the one time that I was sent with them, I have never been selected to travel again," he told said.
Ollivierre also had similar concerns, pointing out that most of the athletes to the Hampton Games are from his Club ITDAT but someone else is selected to travel as coach.
Sources say that President Keith Joseph, who is said to be at the centre in every major decision made by TASVG, is out of the country until month end and there is a strong possibility that the "Boyde Twins" may be replaced in the squad as what may be seen as a temporary solution to the problem.
In April, Reuberth Boyde took silver in the 100 metres Junior Boys at the Carifta Games in St. Kitts and was given a VIP reception on his return to SVG.
The SVG team to the Hampton Games reads:
Officials — Rosmund Griffith, manager/chaperone; Rawlson Morgan, head coach; Pamenos Ballantyne, coach
Athletes — Shantel Williams, Lafeisha France, Zameisha Myle, Daria Mathias, Tamara Woodley, Zita Vincent, Reuberth Boyde, Reberto Boyde, Josh Hamilton, Courtny Bascombe.