Member of Parliament for West Kingstown, Daniel Cummings says he is on the mend after undergoing surgery to the back in Trinidad last month.
Speaking on radio from Trinidad on Wednesday, the opposition lawmaker said the medical procedure was necessary to correct an injury he said he sustained when some opposition lawmakers were thrown out of Parliament in March 2011.
"I was brutalized by the government while performing my duty as your representative in the Parliament of St. Vincent and the Grenadines," Cummings said of the incident, which he has said resulted in him having to use a special chair in parliament.
He said that as a result of the injury, he had not been able to perform his duties as before, namely visiting every corner of his constituency.
Cummings said he left St. Vincent on May 5 for Trinidad, where he underwent surgery on May 9.
"… I had a critical operation to my back. What is referred to a lumbar fusion," he told listeners to his party's radio programme.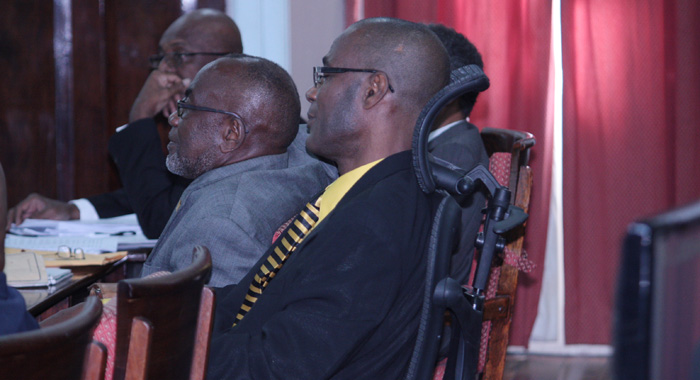 "That is to say that doctors operated on me, removed the damaged discs — lumbar 3 and 4 — and used the mechanism of fusing the vertebrae together, thereby removing the need for the damaged discs," said Cummings, who will seek re-election in general elections expected this year, ahead of the March 2016 deadline.
"To put it into perspective, the doctors had to make an incision in my back that required 36 staples to pull the wound back together — the incision that they made through the skin and the muscle to get to the spine," he said.
"I want to say to my constituents that I am sorry that I could not hitherto advise you of my whereabouts and the reason for my absence. I thought I prudent to remain quiet until such a time that God has granted me the ability to feel that I will be with you in a short space of time," Cummings said, but did not say when exactly he expects to return to St. Vincent and the Grenadines.
He said he has been receiving therapy to strengthen the muscles in his back.
"I have been advised that once you cut through the muscles in the back, in the process of healing, you have to do some exercises to make sure that the muscles are not just restored but they are functional.
"And that exercise is continuing. I have been able to do some walkabouts on a daily basis with my dear wife here in Trinidad, and within the last week, I've been able to do a little bit of swimming in a swimming pool…" he said.
"So again, I just want to say to all the people of West Kingstown. I understand your concerns, but I want to say to you that I have a basic principle that if I can't help myself, then I can't be of help to anybody.
"As hard as it is not to be able to be with you and to visit you as often as I would like to, you and I know that it would not be long before the New Democratic Party is in government and you know that when that time comes, the work that you would require of me is much more than I have to do in opposition and I thank God that I am able to have this operation done.
"The doctor, after the four and a half hour operation, advised me that the nerve was being squeezed. That was what was causing the enormous pain and that has been corrected and that the procedure that was performed should help me to have that pain eliminated," Cummings said.
Those who have not experienced injury to the spine cannot begin to understand the excruciating pain and discomfort associated with it.
"I say to you, when those goons threw me down the stairs — and I use that word very deliberately because normal human beings do not behave that way — having squeezed my foot in the door of the Parliament and me lying on the floor unable to move, I was thrown down the stairs head first. In the process, not only did they damage my back, they damaged a vertebra in my neck, which is a problem I will have to deal with subsequently….
"I look forward to being able to function normally in the Parliament and as constituency representative of the people of west Kingstown," Cummings said.