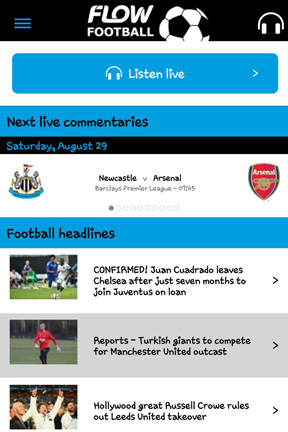 Since the start of the Barclays Premier League (BPL) season earlier this month, Caribbean fans have been downloading the new Flow Football App to access audio streaming of matches, commentaries and other football news live and direct at their convenience.
In its first week, the app ranked among the top five apps to be downloaded, above the likes of Instagram and Facebook in the Apple store rankings across several markets in the region, including Barbados and Jamaica, Columbus Communications, owners of FLOW said.
"This innovative new way to access BPL matches is catching on, and quickly making inroads as more and more football fans around the region discover the app and its many features. The FlowFootball App has been receiving rave reviews, scoring four out of five stars from more than 90 per cent of its users," the company said in a press release.
Features of the app include the ability to select the Barclays Premier League match of choice, listen to match commentaries, tune in to football segments, which provide in-depth coverage of breaking football news, live scores, results and tables of the teams all while "on the go."
"On another novel note, the app also includes an exciting feature known as the 'app predictor,' which gives fans a chance to win £1m every single week," the statement said.
James McElvanna, VP Products, Consumer Group, at Cable and Wireless said: "We are excited and encouraged by the popularity of the Flow Football App, as evidenced by the great reviews from our customers. Caribbean football fans are choosing new ways of accessing football content, choosing apps and are becoming more technologically savvy, taking advantage of the latest football updates at their fingertips."
The Flow Football app, the result of C&W's recently brokered partnership with talkSPORT – the official global audio provider of the BPL — is the new, free-to-download mobile app offering access to what is arguably the most-preferred football league in the world, the company said.
With 380 games between now and May 2016, this new app provides Caribbean BPL fans the best way to follow their favourite teams as the season unfolds, the statement added.